An ever-present at PartnerMatrix since day one, Vahe Khalatyan has stepped up to the CEO post with innovative ideas to push the business forward. In a wide-ranging interview, his first since taking the top job, Khalatyan sets out his vision for creating what he calls 'the new version' of PartnerMatrix by the end of 2023, an important pillar of which fell into place with EveryMatrix's acquisition of the DeepCI affiliate website intelligence platform.
Eight years in the igaming affiliate space has taught PartnerMatrix and its new leading man many important lessons in affiliate marketing. Vahe Khalatyan's vision for the future is that the business will become the best affiliate software company in the world and one that has no competitors. It's a big dream, but is it realisable?
Starting as a team lead and progressing to CTO, where he gained management experience, he knows the product and the business inside out. His familiarity with the features and functionality of PartnerMatrix means that, for him, it's "very easy to be involved in this position".
"We have seen PartnerMatrix grow dynamically," he says. "Our products grew very fast and we believe, with this [continued] dynamism, we will be one of the best affiliate software providers in the world in the near future."
His observation is that while the company is currently ranked in the top five affiliate platform providers, this ranking "is not correct", noting that last year PartnerMatrix was awarded the prestigious title of Affiliate Supplier of the Year at the EGR B2B Awards held at The Roundhouse in London.
Khalatyan is nothing but realistic though. Despite his optimism and lofty goals, he is sanguinely aware that "there are a lot of awards". However, he's certain that the company that he has been a part of for so long is certainly "in the top three".
Forging the new version
Having been responsible for the technical side of PartnerMatrix for so long he has had a busy few months learning the commercial aspects that come with his new role.
Now his main focus is on creating a "new version" of the company. This new version is one that he sees as improving product performance by creating more customised reports.
"Our clients will have the possibility to customise reports the way they need and create new reports with all the necessary data. Also, the reporting system will be much faster due to system optimisations.
"We will provide all the possibilities to create CPA-based commission models that will allow our clients to set plans for different markets and niches. We are also continually investing time and resources into security by adding new modules to our anti-fraud intelligence tool.
Another cornerstone of Khalatyan's growth vision for the platform business is to make it easier for its operator clients to find strong affiliates in targeted geos.
Hence Khalatyan's excitement at finally being able to talk about parent company EveryMatrix's acquisition of the DeepCI affiliate website intelligence platform, after the deal was announced today (Monday 3 July).
"I believe this partnership will unlock even more growth and opportunities for us and our customers in the affiliate space. From now on our clients will have access to even more relevant affiliates and be able to analyse the market more clearly.
"Not only is DeepCI a great business on its own, but it also perfectly complements PartnerMatrix and the wider EveryMatrix Group," adds Khalatyan on the acquisition. "On one hand DeepCI provides information about operators' presence on a vast number of global websites, giving visibility and traffic numbers from affiliate to operator.
"On the other, PartnerMatrix provides information about what happens after the player arrives from affiliate to operator such as whether they have signed up, deposited or placed a bet."
Khalatyan believes that by joining the two together "we will see precisely where brands generate traffic from and exactly how much it is worth."
"DeepCI will unlock new network expansion possibilities for our clients and make the most of certain affiliates," the PartnerMatrix CEO went on to add. "For example, the system will allow customers to find the most profitable placements for its sites and promote brands in the most effective way."
Another growth aim is to create a new agency system model which works in Latin America and Africa, an idea that grew out of requests from current leads. Communication with these clients is ongoing to ascertain exactly what is needed but this is "currently in progress" with the final details still to be ironed out.
"One of our clients signed Bet-at-home and they went live last month,' he says, proudly. "I think this kind of operator will [serve to] deepen trust in PartnerMatrix."
All this feeds into Khalatyan's planned evolution of the business.
"We will create the new version of PartnerMatrix bit by bit," he tells iGB Affiliate. "By the end of the year we will present the fully upgraded version of the company."
In terms of performance, he is of the view that "we [already] do better than our competitors and the company has the goal of being even better this year.
Faster, higher, stronger
It's a laudable ambition, given that in 2022-23 PartnerMatrix's system traffic rose 80% year-on-year, meaning 180,000 affiliates were able to connect to the company's brand partners. This is on top of the business passing the 250-customer mark in 2022, with notable names such as BC Game, Holiganbet, Betsofa, Admiralbet, Melbet and Bet-at-home joining the stable.
In 2022 alone, 86 new igaming affiliate programmes were launched via PartnerMatrix's solutions, surpassing the previous year's target by eight. This led to total revenue increasing by 143% compared to 2021, establishing a strong pipeline for 2023 which is set to continue well into the future.
This all begs a question when viewed in the context of the wider competitor landscape though: why hasn't PartnerMatrix become an affiliate network like some of its competitors?
When this is put to him, Khalatyan prevaricates slightly. "That's an interesting question, I hadn't really thought about it," he chuckles. "I think we do our job well as it is. But what we do want, as a software company, is to improve our software first.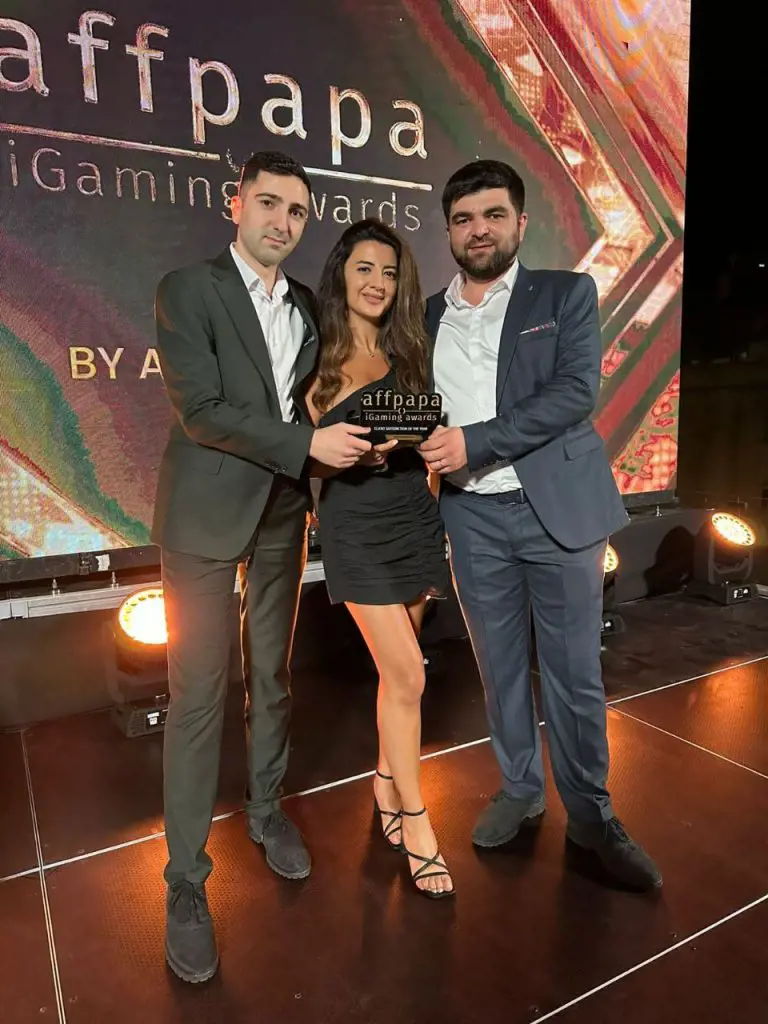 "Right now we are focussed on providing good software and good service to our clients and, maybe in the future, we will think about becoming a network."
That good service is encapsulated by the operator feedback PartnerMatrix receives on its affiliate platforms. As Khalatyan notes: "Each client request is important to us and we have dedicated managers for each of our operator clients."
It's a matter of what works for everyone. "Our goal is always to speak to our clients and to understand," he explains. "We want them to increase their revenues so feedback is important to our development. One of the advantages we have is the way we work with our clients – we can customise our products for them if they need it."
Future-proofing
This leads nicely to the recognition of one of the hot-button topics in the industry – artificial intelligence (AI). Has PartnerMatrix ventured far down this path?
"We are using AI more and more," he says, "but this isn't something new for us. Two years ago we launched it for fraud detection."
Fraud detection is of course "very important for affiliates and operators". With interactions on the company's affiliate systems on the rise, now serving close to 500 million monthly impressions generating more than 40 million clicks, the company's "new focus on security is essential given the rise in fraudulent activities within the industry", adds Khalatyan.
However, he doesn't see generative AI tools such as ChatGPT taking over in terms of creating affiliate content. "Humans will always be there," he clarifies, "but this technology will allow there to be more content created."
The ambitious growth plans of PartnerMatrix naturally necessitate a growth in personnel too, with the company having increased the team by 20% since the turn of the year. "We need more people for the development part on the technical side," Khalatyan says. "We hope to double the staff by the end of the year from the number we had in January 2023."
From being part of the founding team, eight years ago, PartnerMatrix's new CEO has played a crucial role in the development and success of the company. He is proving to be a key asset and leader within the team.
"I am more motivated than ever to bring fresh ideas to life with PartnerMatrix," Khalatyan says. "Being a part of the team from day one I have witnessed the growth of the company and it drives me to achieve even more."
Back to The Top