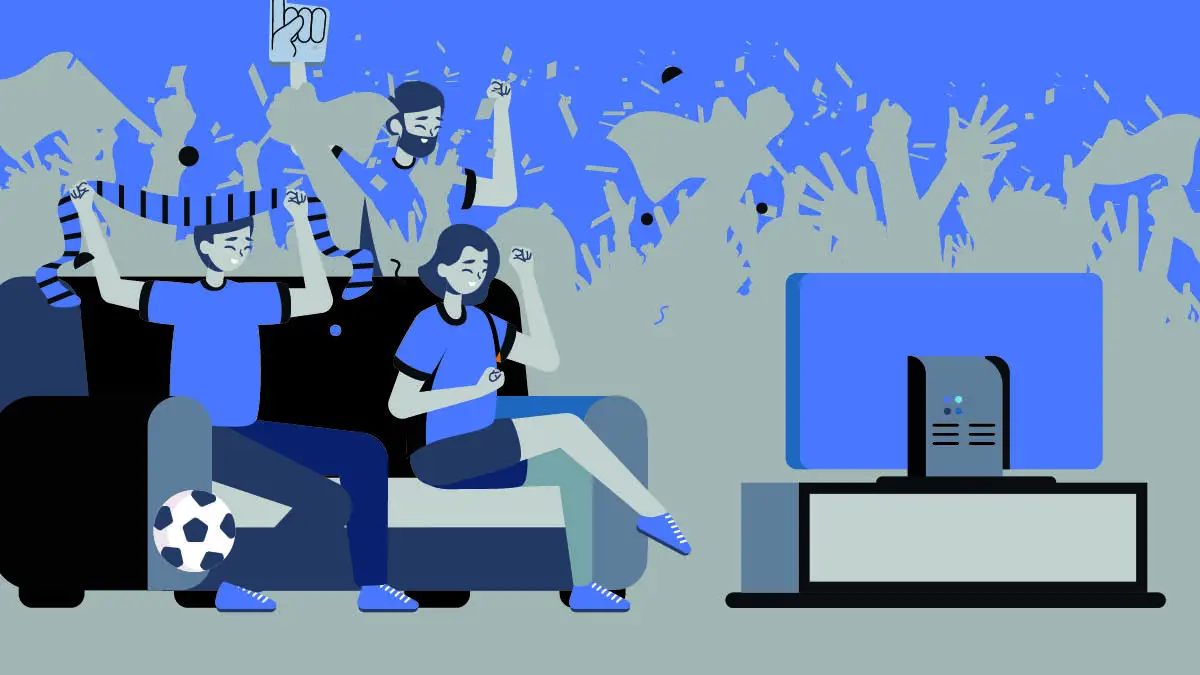 The sports entertainment ecosystem is a crowded space, with affiliates and traditional media jostling for position. But by offering a highly curated experience, Playmaker believes it has found room to grow, writes Cole Rush
Alongside the rise of sports betting, the gambling industry is also ushering in a new wave of sports betting-adjacent businesses. Businesses that play in the sports betting space without actually offering bets.
It's a unique cross-section, involved with sports betting tangentially but offering something special. The aura of sports betting is somewhat of an incubator, fostering innovative solutions in the space that aren't simply "launch a sportsbook".
That zone, the area surrounding sports betting, is where Playmaker operates.
"We play in the sports betting space by building an ecosystem of highly engaged sports fans that we're delivering at scale to those who covet sports fans," says Playmaker chief executive Jordan Gnat. "That's a combination of sports betting operators, as well as Fortune 500 advertisers who are looking to access sports fans, and sports fans being the lifeblood of the entire ecosystem."
Gnat left The Stars Group when Covid-19 first hit the US, then set his sights on his next venture.
"Ultimately, when we looked at the entire sports betting ecosystem, we said at the top of the food chain are the operators," he explains. "Super competitive, need lots of capital, high risk, high reward. At the bottom are the platform providers. Commodity-based businesses, lower risk, but not a huge return, very capital intensive.
"And in the middle is a whole bunch of stuff. Games providers, geolocations. We said, at the end of the day, none of this works for sports fans."
Simple: the customer acquisition costs – millions funnelled from the big operators – has to go somewhere.
"And where does it go?" Gnat asks. "It goes to companies like us."
Meeting fans on their turf
"The sports betting ecosystem survives on one fuel, and that fuel is fans," says Gnat.
He and Playmaker are working to meet fans on their turf, with the content they actively seek out on a daily basis.
"Our business model is to build an ecosystem of highly engaged sports fans and deliver them, at scale, to sports betting operators. We believe content matters. Not just quantity but authentic and relevant content."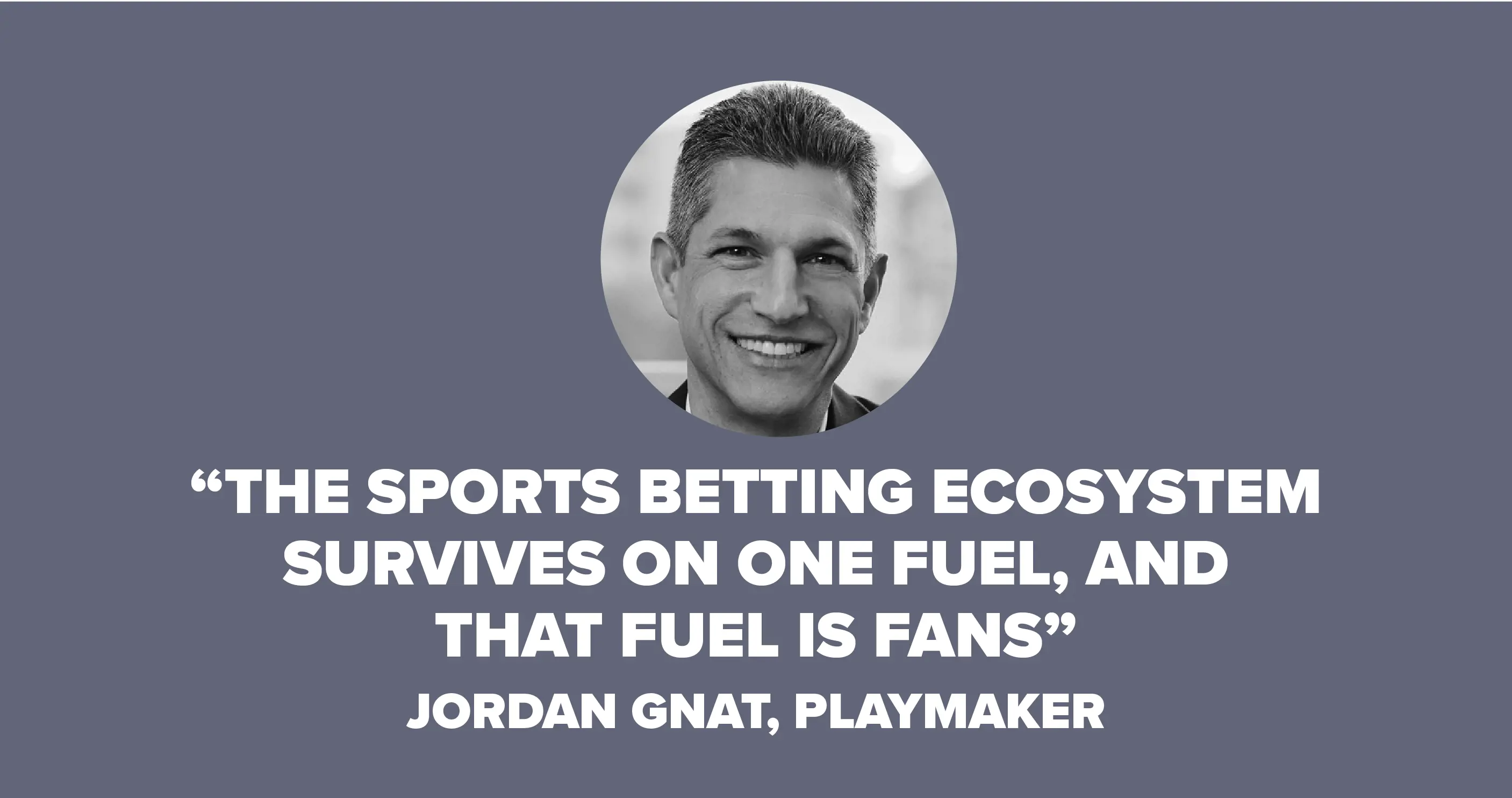 Gnat emphasises that sports fandoms love to consume content digitally, especially in North and South America.
"It's where they go, as fans, to engage with the sports and teams they follow," he says. "Sports betting operators are very sophisticated digital marketers, and they will go where their audience is. We are one of those destinations."
Gnat and Playmaker have built a user journey that meets sports fans where they're already engaged.
"In the US, our platform is Yardbarker. If you went to Yardbarker.com, and you wanted to read about the Chicago Bears, you'd head to the website, the NFL section, and then there'd actually be a section specifically for the Bears."
Yardbarker features syndicated content from local publications. "If you're interested in a specific team, the Bears for example, there's likely a beat reporter from Chicago who has written a few things about the team. We roll it up and syndicate that into our Yardbarker network, so we're able to deliver Bears news and info, directly to a Bears fan."
Rinse and repeat for any other team, and you've got a fully curated network of sports content tailor-made for casual and seasoned fans alike. But there's more.
"We also have a daily newsletter called The Morning Bark. It's a curated newsletter that goes to 370,000+ people every morning. That newsletter can be curated by you, the fan. Every morning, you'll get 10 things you need to know to be smart enough for the watercooler chat. Then on the right side, you'll find what you, specifically, want to know."
When you sign up for The Morning Bark, you can type in your favourite teams and tick boxes to select your favourite sports.
"Whatever you want to know, whichever sports you want to know about, we will curate specifically for you," says Gnat. "Imagine having in your inbox every single morning your own personalised sports section. That's what we're delivering to our fans."
Gnat notes that the ultimate goal is to bring fans from the site or newsletter to a sports betting operator, where affiliate revenue or lifetime value revenue comes in.
Beyond the states: Canada
Though the US is a natural target market for Playmaker, the company is finding success to the north and south as well.
It's hard to compare Playmaker's native Canada to the US market, according to Gnat. "The US is just so big," he says. "California is bigger than Canada." The Golden State's population beats Canada's by roughly one million.
"That said, Canada is hugely important to us, evidenced by our recent acquisition of The Nations Network and Daily Faceoff," he continues. "We believe that the opportunity in Canada is quite large and that there is room for a challenger brand to the large media presences in the country.
"Hockey is key," Gnat continues. "We believe the TNN assets and Daily Faceoff will become a place for independent hockey views, content, and opinions in Canada and the US."
Canada differs from the US in many ways, namely the country's mature grey market. Offshore operators have flourished historically in Canada.
"In the absence of formal regulation, international operators have been operating freely in Canada for decades," Gnat says.
Plus, the government has been offering parlay betting since the early 90s. With the passage of C-218, which legalised single-event wagering in Canada, the country expects its first officially licensed operators to go live in Ontario in early 2022.
"This is a game-changer," Gnat says. "This will accomplish two very important things. Firstly, it will bring grey market business into the light, and with that comes key player protection around responsible gaming, betting limits, and putting rules in place against money laundering. The second is that it delivers significant revenue to the government that has otherwise been going offshore."
With The Nations Network and Daily Faceoff under the Playmaker umbrella, the company can capitalise on the Canada opportunity.
Beyond the states: Central and South America
The US and Canada are often the talk of the proverbial town, thanks to ongoing legislation and growth in the sports betting space. But Gnat and Playmaker are looking beyond the obvious to other burgeoning markets in Central and South America.
"Who are we in that market?" Gnat asks. "In Latin America, we are [the equivalent of] ESPN. We're the largest digital sports media group in Latin America. If you're in Chile looking for sports media, you go to Redgold.cl. We're number one in Chile for sports media. In countries like Brazil and Argentina, our Bolavip brand is just massive."
Bolavip serves as a massive news funnel, making it "the voice of football" in Latin America. And beyond the prominent number one – football – basketball is incredibly popular south of Mexico.
"In Mexico, NFL is number two, and we have strong NFL pieces there," Gnat says. "Yardbarker afforded us content that allows us to have even more authenticity surrounding NBA and NFL. We're able to use some of our US content in Latin America and vice versa. And now, we have Bolavip content being syndicated onto Yardbarker. If you want to go after sports fans in Latin America, we are on the list, if not at the top of it."
The Latin American markets, however, are still in the early stages of regulation.
"If you asked me when we started this business if our first acquisition would be a Latin America-based, soccer-centric business, I'd have said probably not." Gnat notes. "But we're opportunistic and we're disciplined.
"Mexico already allows sports betting; you can be licensed in connection with a land-based operator.
"In Brazil, the law passed in December 2018, and hopefully, regulations will be ready in Q1 of next year. Argentina passed a law in 2018 as well. They've got licences issued, and we're now hearing that they'll start regulated betting imminently. Then in Chile, recently the legislature looks to be moving forward with regulation."
In essence: sports betting is coming to Central and South America. The markets in the region are more akin to Canada: grey rather than black. Whereas the US was a black market, no offshore operators allowed, South American bettors have had options, historically.
"What happens for us is when markets begin formal regulation, more advertising is allowed," says Gnat.
That's when Playmaker can make a splash and bring new players to operators in South and Central America.
Looking ahead
"We're in the top of the second inning here," says Gnat about the US sports betting landscape, implying there's a lot more game left for Playmaker.
"Look at the US market to start. New York is finally moving, but you don't have California; you don't have Texas. That's a big chunk of the country's GDP. That chunk isn't even allowed to bet on sports. Once you get those big states, that's when the real business begins."
Canada's still a way back. Gnat likens the territory to the first inning. "We're just stepping up to bat," he says.
"Ontario hasn't even started. It's 40% of the population [of Canada], probably 50% of GDP. So we'll probably move a bit faster in Ontario because it's moving from unregulated to regulated."
That jump is significantly more accessible than the US journey from fully illegal to regulated.
"Then in Latin America, lots of opportunity. As we continue to look at our acquisition strategy, we're very focused on these markets," he says.
"Hopefully, in a few years, Playmaker becomes a household name in the investment community, and they understand what we're building is important. From a fan's perspective, we hope our assets become their go-to place for quality sports content."
Back to The Top