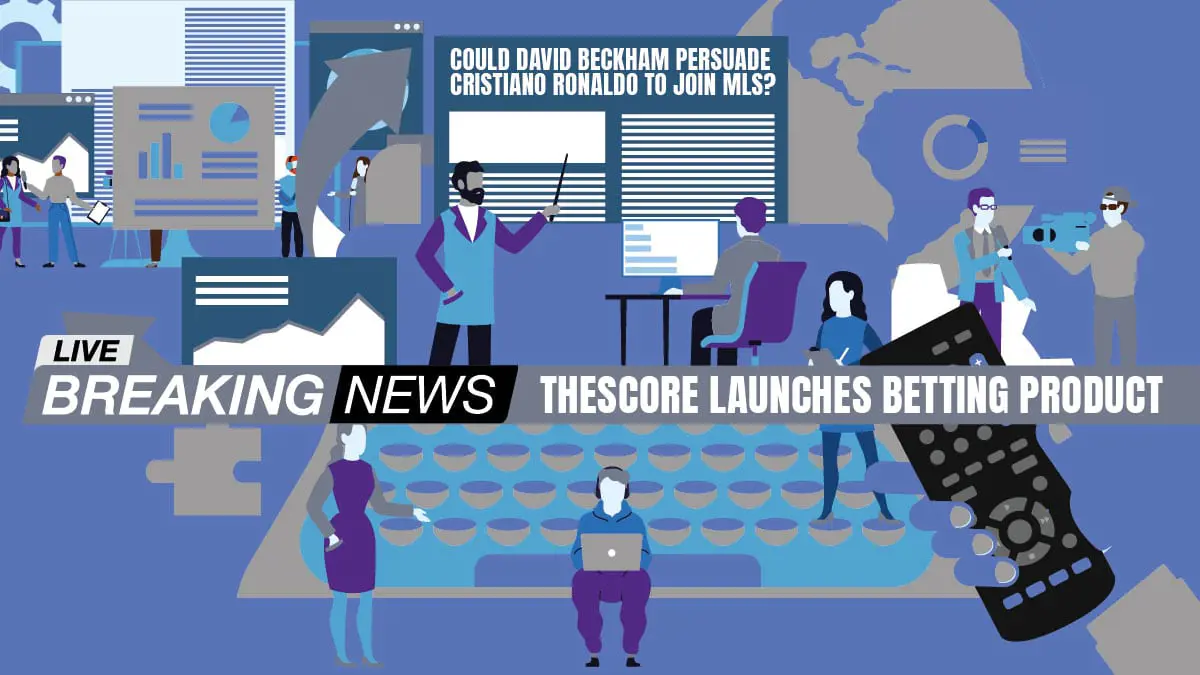 Recent months have seen a wave of media outlets pairing up with betting operators, as the US becomes more familiar and comfortable with legal wagering, and the bookies look to tap into potentially lucrative acquisition channels. DANIEL O'BOYLE discusses the state of play with USA Today's Chris Pirrone
The role of sports media outlets as a key acquisition channel for many US betting operators probably should come as a surprise. Even in the days of PASPA, when sports betting was only widespread in Nevada, sports media consumers across the US would see plenty of betting content. Many mainstream publications carried prices from offshore sportsbooks. Analysts would regularly make picks against the spread, underdog odds were used to define great upsets and talking heads would joke about unfortunate backdoor covers and "bad beats" that affected nobody but bettors. As betting became legal across the country, at first it remained common to see dot.lv, dot.ag or dot.eu domains when odds were cited. Even now, to the regulated industry's frustration, it has not entirely been stamped out. Yet the speed at which almost every major player in both sports media and sports betting has paired up in the past year may have exceeded expectations. Today, it would be difficult to find a major sports outlet that wasn't linking to a chosen operator and making money from it, with every potential player on each side of the deal appearing afraid of being left out. While there were some early link-ups, with Fox Bet notably using the name of a media giant and marketing on Fox Sports while theScore launched its own betting product, the partnerships have taken off in the past year.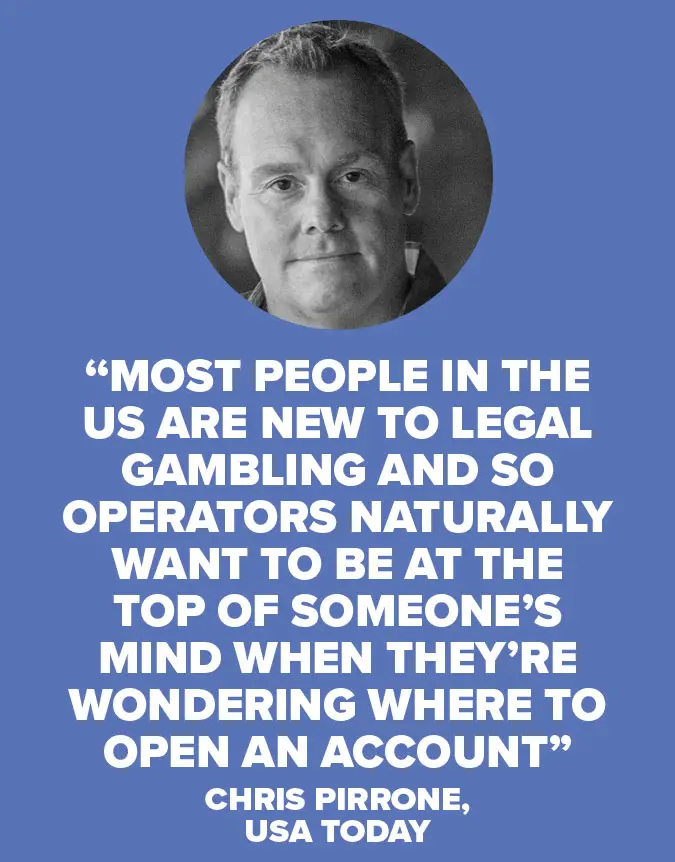 A year ago, a partnership with a big-name media business was a useful addition to an operator's acquisition strategy, but far from a requirement, while the partnerships that did exist seemed to be based on a media outlet capitalising on its name value and launching a brand in its own name. But in 2019 and 2020, an arms race began, with almost every major sportsbook active in the US finding a partner. "In a way, I think it is a race for audiences and to control the audience," Chris Pirrone, general manager of Sports Media Group at USA Today, tells iGB Affiliate.
USA Today
's owner, Gannett, agreed in September to link up with BetMGM, a brand owned by GVC's Roar Digital joint venture with MGM Resorts. "I think there's also a branding impact where people want to be the trusted brand that people think of. Most people in the US are new to legal gambling and so operators naturally want to be at the top of someone's mind when they're wondering where to open an account." FanDuel, DraftKings, BetMGM, PointsBet, Penn National Gaming and Caesars have all signed deals with a major media outlet, alongside theScore. Meanwhile, any new operator looking for promotion on a nationwide media outlet would find four of the largest sports television networks, the country's largest newspaper publisher and most leading sports websites all taken.
DIFFERENT PARTNERS, DIFFERENT GOALS
The power of a major media brand comes with obvious benefits in reach: Pirrone estimates Gannett's network of newspapers sees 60 million monthly views, while ESPN's website saw a monthly average of 95.5 million unique visitors in 2019 and Barstool 60 million. Thanks to the internet landscape, that benefit may be hard to relinquish, as existing SEO success has helped ensure many of these sites have risen rapidly up search results pages. But with each partner comes a different goal: the major television networks such as William Hill/Caesars partners ESPN and CBS, Fox Bet partner Fox Sports, and PointsBet partner NBC offer the most brand recognition and potential customer eyeballs. Meanwhile, Penn National Gaming grabbed much of the attention when it opted to purchase a stake in sports and pop culture website Barstool. While it may not have the same reach as old media's biggest names, Barstool claimed a demographic of young sports fanatics that every player in the market seemed to be looking for. FanDuel followed with a similar move, looking for demographics rather than sheer audience size in partnering with The Ringer: a sports and pop culture website and podcast network that was purchased by Spotify for nearly $200m.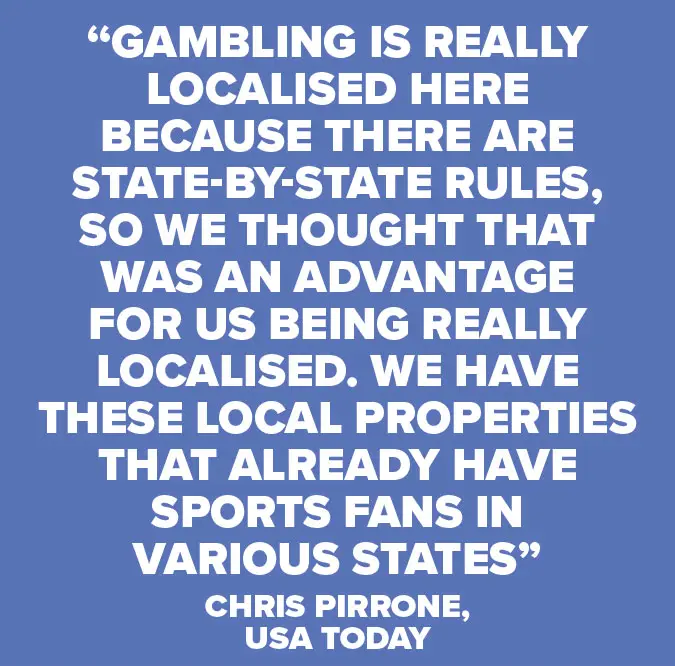 Gannett, which publishes not only USA Today but many of the US' major regional newspapers such as the Detroit Free Press, Indianapolis Star and the Des Moines Register, offers a chance to tailor content to local customers, reaching fans of a specific team. DraftKings, one of the largest players in the US market, has partnered with Vox brand SB Nation, a network of team-specific sports blogs in an attempt to achieve the same local reach. "Gambling is really localised here because there are state-by-state rules, so we thought that was an advantage for us being really localised," Pirrone says. "We have these local properties that already have sports fans in various states." That reach meant USA Today and other Gannett property readers may be a different kind of betting customer to the Barstool crowd. Rather than experienced bettors looking for an option in the new regulated market, Pirrone said many of its readers may not be particularly familiar with the world of betting, and so much of its gambling-related content serves in part as an educational tool. "The thing that I think is interesting about our audience is that we believe we have a lot of highly passionate sports fans but maybe not so many engaged games: that's what our research showed us and after all, in the states, gambling has often been pretty taboo," Pirrone says. "So we believed we needed to educate some of these sports fans on the techniques and also just the lingo. "I think it can be pretty intimidating for someone, especially someone who knows sports but doesn't know gambling, to see all the numbers and the jargon. So if we can help educate our sports fans and make them more confident about gambling then we'll have done our job." Besides Gannett's old-media network of newspapers and their respective websites, USA Today has built a series of team blogs that it calls the "Wire network", inspired by SB Nation, that may feature double-digit stories per day on a single team. Alongside those, it introduced Sportsbook Wire, a site dedicated specifically to betting and daily fantasy advice from across its network of team sites. When it launched the site, USA Today hadn't settled on BetMGM as its betting partner, but Pirrone said the business knew it would find an operator eager for the potential traffic it could send their way.
PLAYING BY THE RULES
In terms of structure, the deals look more like affiliate partnerships than traditional advertising: media partners are typically paid a portion of revenue from the bets their readers place, though cost-per-impression marketing often forms a major part of the deal too. While affiliate marketing may be a change from normal ad buys, Pirrone says that in the digital age, it has become a necessary part of the advertising repertoire of many media outlets, with USA Today already using these methods in other industries before linking up with any betting operators. But posting affiliate links to a betting site, of course, means many rules for affiliates apply, including the requirement to get a licence if you wish to affiliate in the US's biggest online betting market New Jersey, as well as the emerging Colorado market. "We always have our legal counsel working with the local regulators," Pirrone points out. "In New Jersey we were already licensed because of marketing related to the land-based casino industry, but we made sure we were up to date with the regulations. In other states like Colorado we always try to work closely with regulators and get our counsel involved if required." Depending on the brand, compliance issues might go further than initial regulatory approval. Penn National acquired a 39% stake in Barstool sports, with its brash style likely a key reason why it expected the site to be a major acquisition channel and a powerful brand name for its sportsbook product. Yet it hasn't been without criticism for some of its messages, including a video featuring messaging such as "You can only lose if you quit." Following the operator's signing of the American Gaming Association's Responsible Marketing Code for Sports Wagering, however, Penn said it would ensure Barstool followed rules such as one requiring that "messages will not promote irresponsible or excessive participation in sports wagering." "Penn National and Barstool Sports take responsible gaming and our compliance obligations very seriously," the operator said. "Penn was actively involved in the development of the AGA's Responsible Marketing Code for Sports Wagering. We are proud to have our chief compliance officer serving on the Code Compliance Review Board and will follow its terms." The operator added that "importantly, Barstool's content is not solely focused on sports betting," so aspects of the Barstool brand may have features that would otherwise break the code, such as appealing to minors, as long as betting is not the focus.
EASY ACQUISITION?
Ultimately, though, the model appears to be a useful acquisition tool, for those who can afford a big-time partner, at least. For USA Today, the new odds content has certainly been an engagement boost. "We're always looking at statistics and for us it's all about engagement," Pirrone said. "Are we seeing people engaging with the content and are people clicking through? But we're mostly looking at the content side of things: time on site, views, shares. Those have all looked very good." He added that the Sportsbook Wire site is not just a platform for odds and gambling links but has helped feed into Gannett's local news coverage. "Newsrooms are very short-staffed so might not be able to write about sports betting in the way that we'd want to as sports fans, so we created Sportsbook Wire and staffed that with individual journalists to cover sports betting across the US," he says. "Then articles from Sportsbook Wire feed into the Gannett newspapers, so the Indy Star, for example, in a big sports betting market, Indiana, gets editorial that comes from and is driven by Sportsbook Wire." Yet it's the rapid escalation of the hunt to find a partner that suggests that early adopters such as Fox Bet have experienced success with the method and proved it to be an effective acquisition model. The question will now be if it can still work in a more saturated market.
Back to The Top