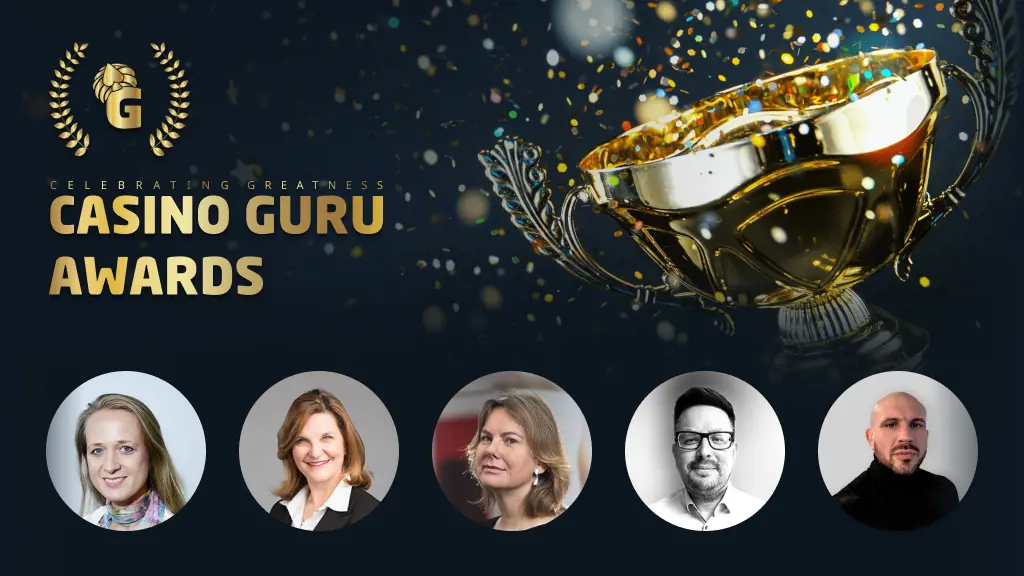 Judges announced for Casino Guru Awards "Most Impactful Social Responsibility Initiative" category.
Judges announced for Casino Guru Awards "Most Impactful Social Responsibility Initiative" category.
Casino Guru is happy to reveal the list of judges for its "Most Impactful Social Responsibility Initiative" award, part of the upcoming Casino Guru Awards. After it revealed the judges for "Best Implementation of Responsible Gambling Tools", the company is happy to introduce the new faces who will leverage their expertise to debate one of the most important categories for the project.
The Social Responsibility category will focus on distinguishing and recognising the achievements of responsible gambling and problem gambling prevention initiatives. This category will seek to award the one industry specialist whose efforts in the field stand out and have made an impactful change on the issue – or which stand to make an impact.
To help Casino Guru decide objectively, the Casino Guru Awards panel for this particular category will consist of a number of external judges as well as the company's own team. The professionals who may apply for this category as participants may have completed projects or may currently be developing one.
The judges will review each proposal based on the possibility of a positive impact, intentions, execution, results (when applicable) and more. The people making the final decisions are themselves extensive professionals in the field of social responsibility and responsible gambling. They include:
Ewa Bakun, director of industry insight and engagement at Clarion Gaming, a long-standing Clarion Gaming veteran who introduced and has overseen the growth of the Consumer Protection Zone at ICE London;
Shelley White, CEO of the Responsible Gambling Council (RGC), whose responsibility is to help her organisation promote responsible gambling and reduce problem gambling using research and evidence-based approaches to implement innovative prevention, education and social marketing programmes;
Sarah Ramanauskas, auditor for the US National Council on Problem Gambling's iCAP RG standard, who works with gambling operators around the world to ensure their corporate policies stay true to safer gambling;
Dan Iliovici, vice-president of the Romanian Gambling Organizers' Association (ROMBET), and of the Responsible Gambling Association, who is permanently involved in responsible gambling projects and committed to the transformation of the industry;
Eduards Jakubovs, head of responsible gambling at Betsson Group, who has been in charge of Betsson's commitment to responsible gambling operations since 2015 and has extensive experience in the field;
Jo Abergel, founder of Rock Learning and co-founder of the Ethical Gambling Forum, who is focused on challenging the industry with some of its greatest ethical dilemmas and seeks meaningful conversation with operators who are in position to start tackling these issues;
Maris Catania, head of responsible gaming and research at Kindred, who has extensive experience in studying and understanding behaviour related to problem gambling, and has used her career to advance the industry's collective understanding of problem gambling and how it can be stopped at an early stage;
Stephen Aupy, VP of strategic partnerships at Gamban, who is committed to collaborating with the industry to help establish responsible gambling practices with leading operators and entities across the industry, and who is committed to bringing more positive change in the sector;
James Mpiirwe, Genius Gaming consultant and senior consultant at Regulatory Frameworks, who is a seasoned legal practitioner and who has been a torchbearer and pioneer of responsible gambling practices in Uganda and helped establish the National Responsible Gaming Policy of Uganda;
Martin Lycka, SVP for American Regulatory Affairs and Responsible Gambling at Entain, whose impressive track record in responsible gambling and social responsibility spans the American Gaming Association, the Entain Foundation US, the National Council on Problem Gambling and others;
Matt Smith, head of external affairs at Betknowmore, who seeks to provide support and training services that prevent and address personal and societal harms caused by gambling;
Vladimir Malakchi, chief commercial officer at Evoplay, whose industry experience and drive for results have translated into creating compelling products that protect consumers and innovate igaming;
Pieter Remmers, founder of Assissa Consultancy Europe, who has extensive experience in helping businesses understand the importance of consumer protection, social responsibility and how intervention can help business and players;
Jody Bechtold, CEO of The Better Institute, who is the author of The Gambling Disorder Treatment Handbook: A Guide for Mental Health Professionals, and who has spent a considerable part of her professional life in promoting social responsibility and responsible gambling in the industry;
Paul Buck, CEO and founder of Epic Risk Management, and an individual with a distinct commitment to consumer protection and responsible gambling in the industry. Paul's company works with some of the most dedicated igaming stakeholders to date.
Svend Aage Kirk, partner at SGcertified.com, whose experience in the industry has convinced him of the need to raise standards. He does so through SGcertified.com, the leading platform helping companies understand their impact and exposure to compliance risks, set the right plan in place, train teams and have their efforts certified by associations and standards bodies.
The categories will also be judged by Casino Guru's head of content Maros Gasparik and sustainable and safer gambling lead Simon Vincze, whose work in gambling over the years has pivoted towards creating safer and meaningful content, projects and initiatives that focus on bringing on more social responsibility to the industry.
Casino Guru will hold the official ceremony for the Casino Guru Awards online in February 2023. You can stay up to date with the Awards progress by visiting the official page at Casino Guru Awards. For additional nuggets of information, please make sure to follow Casino Guru News.
Back to The Top