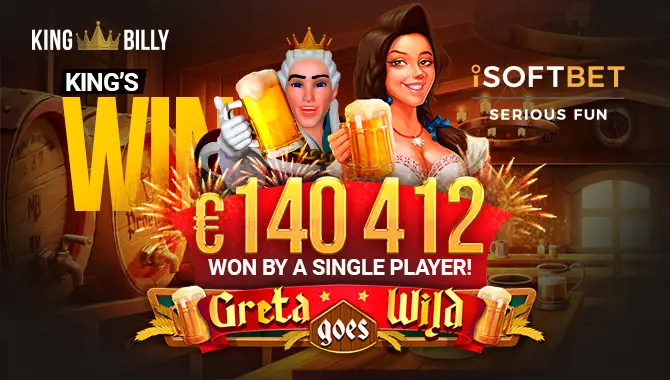 Lucky VIP player scoops huge sum from €30 stake.
Lucky VIP player scoops huge sum from €30 stake.
The festive season at King Billy Casino has started with a bang and a win! Only one week into December's Christmas activities, a lucky VIP King Billy player has won €140,412 on a €30 bet, playing the iSoftBet slot Greta goes Wild (not that Greta!).
Coming hot on the heels of another impressive €87,668 win for a Nordics-based player just a month ago, King Billy is demonstrating its impressive intercontinental scope and coverage of the gaming world.
Commenting on the win, King Billy Casino chief marketing officer Vladyslav Udovenko (or "Lord of Marketing" according to King Billy's internal protocol), said: "Everyone needs something wonderful to start the festive season. And we couldn't hope for more wonderful news, both for us and for our VIP player, than this. In just two months our players scored two big wins. It shows that King Billy is the casino players can and should trust.
"Given the opportunity, I would like to point out that even though every festive season includes a ton of promotions and gifts, this year at King Billy we have truly outdone ourselves, by offering the most attractive welcome pack to new players who will come to the Kingdom until the New Year.
"We invite everyone to come, play long and prosper! Congratulations again to our player and, of course, to iSoftBet for their amazing Greta goes Wild slot!"
King Billy caught up with the lucky punter…
Congratulations on your win! How do you feel? I feel great, positive energy and extremely happy. Never felt better to be honest.
Have you ever won this much with such a small bet in the past? I have never won so much in such a short time in the past. Very grateful and humble to have been lucky to win such a large amount.
Do you prefer to play iSoftBet Games or did it happen by chance? It just depends on the game and how each game works. I prefer to play iSoftBet Games and NoLimit. They have my favourite games plus a lot more to choose from.
What are you going to do with your winnings? Have you decided? I have been saving to buy a house so it will definitely come in handy, but I also enjoy playing on King Billy Casino so I can deposit more in the near future.
Give just one word for King Billy. Royal!
And two words from King Billy to our player: Thank you!
Back to The Top