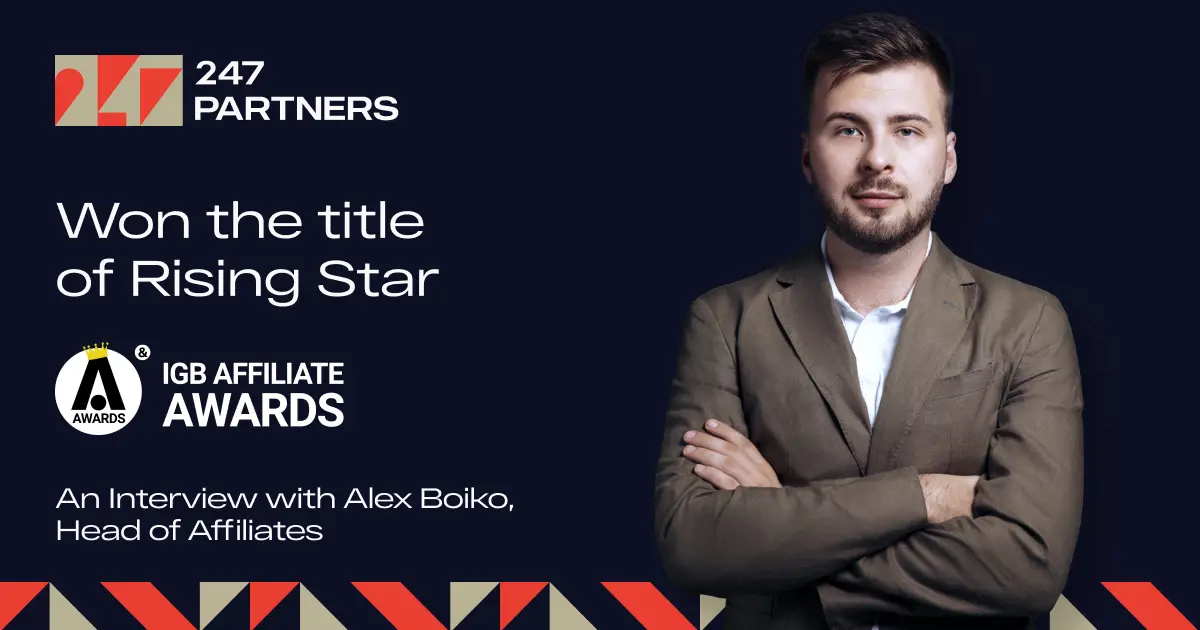 Fresh from a successful evening, head of affiliates Alex Boiko talks about the company's growth and expansion plans.
Hi Alex, let's begin with a tough question: how was 2022 for 247Partners? 2022 was challenging, but we turned all challenges into growth opportunities. Last year we launched a new brand with an Estonian licence and updated one of our top gamified brands. It helped us to expand 247Partners ' presence and increase our affiliate network. Moreover, we have truly taken our brands to the next level, so much so that they now acquire traffic extremely quickly.
Can you share the results for your brand? Let's take a look at the numbers. We paid our affiliates 70% more than in 2021, and our revenue increased by 30% in Q4 of 2022 in comparison to Q3 of 2022. The World Cup led to a huge increase in customer value, especially during the unpredictable playoff stage.
What about the updated brand identity? Why did you decide to change it so drastically? This change was a gradual one that aligns much better with 247Partners as the company has become a strong affiliate programme with outstanding brands, benefits and features. The updated identity perfectly matches our work approach — dynamic, clear, precise and flexible. It's a perfect visualisation of our business values and ambitions.
Let's talk more about your approach. What is the main feature of 247Partners? Narrowing it down to just one main feature is hard for me so I will name two. First of all, one of 247Partners' main defining features is definitely our highly gamified brands. Last year we acquired an Estonian licence for our project Posido and revamped our AmunRa brand. Both provide tons of gamification, featuring amazing artwork and a vast game portfolio. Players love this unique element. This is also loved by our partners who are always amazed at how much traffic it brings.
Secondly, 247Partners is also recognised for its transparent approach to partnerships. These are always based on mutual trust with our affiliates. Our partners can count on us, and we respond to their trust with generous and flexible commissions.
The Rising Star award you won last night was richly deserved. What's next? Tell us more about your plans for 2023. We have a lot of challenges ahead, so this award is just the beginning. 247Partners will continue to increase transactions, traffic and conversions in 2023. We're aiming to get new licences, launch new, vibrant brands in different countries, and participate in the most significant industry events to expand our affiliate network and brand presence. So join us and become a part of our success story!
Back to The Top