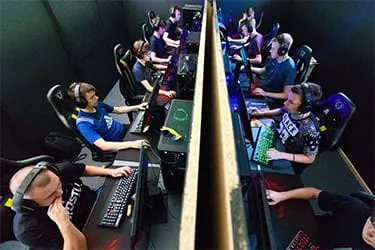 Nick Garner follows up last issue's analysis of the innovative forms of gambling developing outside of the regulated environment with a look at how some companies are marketing to and signing up players
Last issue I talked about gambling regulation and how it's stifling innovation in gambling. To recap:
Regulators consolidate their power. They will probably keep increasing their demands until a market dies, politicians lose votes or tax revenue falls.
Regulation favours bigger businesses that can handle the admin overhead.
Innovation slows down because the risk/reward balance tips in favour of risk.
When there is pent-up demand, markets seek a better solution. In the previous article I talked about some of the site characteristics, game mechanics and brands. This time I want to share some of my insights into how this marketing ecosystem works.
MILLENNIALS
As the Yale Tribune reported in July 2018: "The gaming industry stumbled onto the truth that though millennials may not be attracted to the conventional casino slot machines, they enjoy a different type of gambling experience. And the medium to approach them was the internet." A study by Stockton University found that millennials spend roughly two thirds less on gambling than older generations. The full report can be found online by keying in 'Stockton University millennial entertainment preference' in your search engine of choice. Millennials might be gravitating to esports but they're not gravitating to traditional igaming casinos as expected. Instead, tens of thousands of players take part in 'dark market gambling' where slots hardly exist.
NAMING CONVENTION
As there is 'esports' for gamers who want to bet on gaming tournaments, so too there are 'egamblers' who want to gamble in non-traditional online casinos (i.e. casinos that aren't dominated by slots). To understand how the esports and egambling ecosystems fit together, it's important to look at the big drivers affecting the whole gambling ecosystem:
1. Advertising
Esports is fundamentally sports betting. It sits comfortably under most existing gambling regulation. Regulated operators are able to advertise on broadcast media, mainstream publications and Google. Big gambling brands advertise on mainstream media because it works. And in the years to come you'll see more and more mainstream esports advertising. The usual sportsbook model is: get players via sportsbook, generate extra revenue via casino. However, on the casino side there's a catch: gambling regulation means it's very expensive to try novel gambling games. Egambling sites will probably never get mainstream regulatory approval because they use crypto and unregulated games.
2. Affiliates
As we know from igaming, all operators rely on affiliate marketing. Why? Simple: because it works. Igaming is a relatively mature market. Transformative innovations have not occurred for some 15 years. As a result, the market is heavily commoditised and successful affiliates can push for very aggressive CPA and revenue share deals. The downside to being in regulated markets is that operators might not trust you and stop partnering with you. But that's another story.
EGAMBLING AND AFFILIATES: SEO
If you look at the main key phrases for egambling:
And compare them to UK casino phrases:
You'll see the volumes are smaller, but in aggregate there is an appetite for this kind of unregulated gambling – even in the UK. Millennial gambling sites can be classified as:
Loot box (pay for a virtual box and open it. Win items that are more or less valuable than the purchase price).
Skins gambling (gamble using virtual items, such as guns, clothing, shields).
Crypto gambling (gamble with cryptocurrency).
Dice (play simple provably fair dice games with cryptocurrency).
Script sites (simple, one-game provably fair gambling sites).
For example,
CSGO500.com
gets 2.9 million visits a month. The site will have between 1,200 and 1,700 concurrent players depending on the time of day.
80% of traffic is direct
12% of traffic is from organic search, with about 80% of traffic from brand phrases
3% of traffic comes from social media
Players get a $1 sign up bonus and referrers get $0.05 per referral. A typical scenario looks something like this: a gamer has a channel, does a promotional deal with one of the egambling operators and promotes their brand through a 'show and tell' video. A player then registers and gets a sign-up bonus and the affiliate gets a referral bonus. The
CSGOfast.com
referral programme looks like this:
1-2 referrals: 0.1% of the bets placed by the referrals plus an instant $0.10 when they refill their balance.
3-4 referrals: 0.15% of the bets placed by the referrals plus an instant $0.11 when they refill their balance.
5-7 referrals: 0.2% of the bets placed by the referrals plus an instant $0.12 when they refill their balance.
8 referrals: 0.25% of the bets placed by the referrals plus an instant $0.13 when they refill their balance.
(source: csgofast.com/bonuses/referral)
By way of contrast, the Hellcase.com referral programme, depending on partner level, looks like this:
Level 1: 1% of deposit from referred player. Referral gets $0.30.
Level 2: 2% of deposit from referred player. Referral gets $0.40.
Level 3: 3% of deposit from referred player. Referral gets $0.45.
Level 4: 4% of deposit from referred player. Referral gets $0.60.
Level 5: 5% of deposit from referred player. Referral gets $0.65.
Level 6: 6% of deposit from referred player. Referral gets $0.70.
If you are a YouTuber with 30,000+ subscribers and 5,000+ views on a video, or a website with 5,000+ visitors, you can negotiate a partnership deal.
(source: hellcase.com)
Have you noticed a trend? Thought not– there is no trend. The only thing they all have in common is they don't offer revenue share in the same way as igaming operators do.
DISORIENTATED
Since the egambler market is very fragmented, it's hard for players to compare like for like. In regular igaming, one casino has similar slots to the next. One set of promotions is similar to another. Affiliates promote lists of bonuses and players understand what 'value' looks like. Sites like
FlashyFlashy.com
try to standardise the value of bonus rewards. When you visit egambler sites, players generally convert cash or skins into some kind of coin, such as 'coin' or 'bux'. It's often difficult to work out the exchange rates for converting 'coin' into usable currency and so players have no real idea of the value of their bonuses. And since affiliates have no set metrics for working out player value from their referrals, it's just a random guess on which brand will generate most revenue. Based on my calculations, the lifetime revenue for an average depositor is probably between $40 and $60. Meanwhile, the average revenue share to affiliates is about 15% to 20% and the average conversion rates from referred player to depositor probably circa 10%-15%.
OVERALL MARKET SIZE
If you combine loot boxes, skins gambling sites and provably fair crypto gambling sites, there are probably some 25 million visits per month which equates to about 10 million unique visitors a month. Total operator revenues are probably about $9m per month or $108m a year; and affiliate revenue share is probably at $1.5m per month or $12m per year. For comparison:
As for igaming, I can only hazard a guess on the numbers. There are probably 7,000 to 9,000 igaming brands in existence. So I would guess that there are a minimum of one billion visits per month across all igaming sites. But the difference between igaming and egambling is:
Egambling
It's new and still in flux.
Millennials gravitate to it.
The cultural reference for egambling is gaming. Globally there are about 400 million individuals who play online games such as CS:GO and Fortnite.
They are comfortable with cryptocurrency.
They don't like slots.
There is minimal regulation.
The trend is growing in line with cryptocurrency adoption.
Igaming
It's getting old and consolidated.
The market favours big operators.
It is dominated by slots.
It is more and more heavily regulated.
WHAT IF YOU WANTED TO BE AN EGAMBLING AFFILIATE?
SEO
Some sites worth analysing are:
Overall, you'll see limited competition and a lot of fragmentation. If it was me, I would probably have a group of sites, one focusing on a broad spread of related phrases and then others focusing on loot boxes, skins gambling, CS:GO gambling and so on.
Social media
It seems the biggest drivers of new acquisitions come via YouTube, Twitter and Discord.
You Tube:
Unless you've got the following through gaming, such as with CS:GO or something similar, it's going to be tough building a new channel. In this case it may be much easier negotiating some decent terms with operators and recruiting YouTubers to build some kind of affiliate network. Why do I think this might work? Because it's a fragmented market and a lot of YouTubers are probably not aware of this income stream or the exact dos and don'ts of Google policies. For extra research, try a YouTube search for phrases such as 'CS:GO referral codes' and from there you'll see the kind of channels that are promoting these codes. If you're an igaming affiliate, you may just want to rely on SEO and go from there.
Twitter:
By eschewing video content in favour of short, relevant messages, it seems to be easier to build a following on Twitter. Just as with igaming, players want bonuses and Twitter is a great medium for delivering this information – just look at the CSGOreferrals or CSGObetClick Twitter accounts and you'll see what I mean. The interesting thing I've noticed in my research is that in 2017/18 there were far more 'gamer personalities' putting out referral codes to their audiences. These days it seems to be more dedicated affiliates filling this vacuum.
Discord:
I know very little about Discord communities. Just saying! It's like Skype for gamers. If you're playing a team game, you need to communicate with other people in a private setting. Discord works by having private chat rooms which are hosted on different servers. The big advantage with Discord is with large groups where group members can control audio settings, video or whatever to get an experience they are happy with. There's also very little latency, which is critical when it comes to gamers. Anyhow, one major difference between Discord groups and Facebook groups is the relative freedom offered by the former. If you're running a gambling group on Facebook, expect hassle. Discord seems to be more open-minded. If you socialise well in these groups, you can be the person distributing the new referral codes. Some key Discord statistics:
250 million registered users.
56 million monthly active users.
14 million daily active users.
Roughly 315 million messages sent daily across all servers.
Twitch:
If you are not aware of this site, Twitch is live streaming for gamers. Some key Twitch statistics:
2.2 million daily broadcasters and 15 million daily Twitch viewers on average. Average of 41,000 concurrent Twitch broadcasters and 1.1 million concurrent Twitch viewers.
Revenue-sharing Twitch partners number 27,000; Twitch affiliates number circa 150,000.
560 billion minutes of Twitch viewed during 2018 – a 58% increase on 2017.
As of 2017, 124 million clips were stored on Twitch, with 1.7 billion views collectively.
Twitch users watch 95 minutes of footage per day on average.
If you want proof that there is an appetite for live gambling streaming, do a search for 'casino'. Among the results, you'll see channels such as CasinoDaddy, which has about 14,000 followers. While gamer channels are huge, there isn't that much interest in online gambling, relatively speaking. The issue with Twitch is similar to YouTube: you're popular if you produce hours of entertaining content.
WRAPPING UP
Overall, if I was a successful affiliate in igaming and had some spare cash, I would focus on SEO and Twitter. The common theme: be prominent where people are asking questions. In my view, millennials want to gamble like the rest of us. They just don't want to play slots. Regulated markets will not encourage transformative game innovation and that means 'slots for ever'. It also means these internet-savvy players will go somewhere else to satisfy their interest in gambling. That somewhere is going to be 'dark market gambling'.
Disclaimer: This article should not be taken as a recommendation to promote or work with any of the websites mentioned here or in the associated directories. Affiliates should confirm the legal status of gambling with virtual items in all countries and territories in which they wish to work before doing so, and ensure all sites they intend to promote hold a relevant licence from a reputable gambling jurisdiction. All sites offering gambling products in Great Britain must be licensed by the Gambling Commission. It will use its full range of statutory powers to investigate and prosecute companies and individuals that operate illegally.
Back to The Top