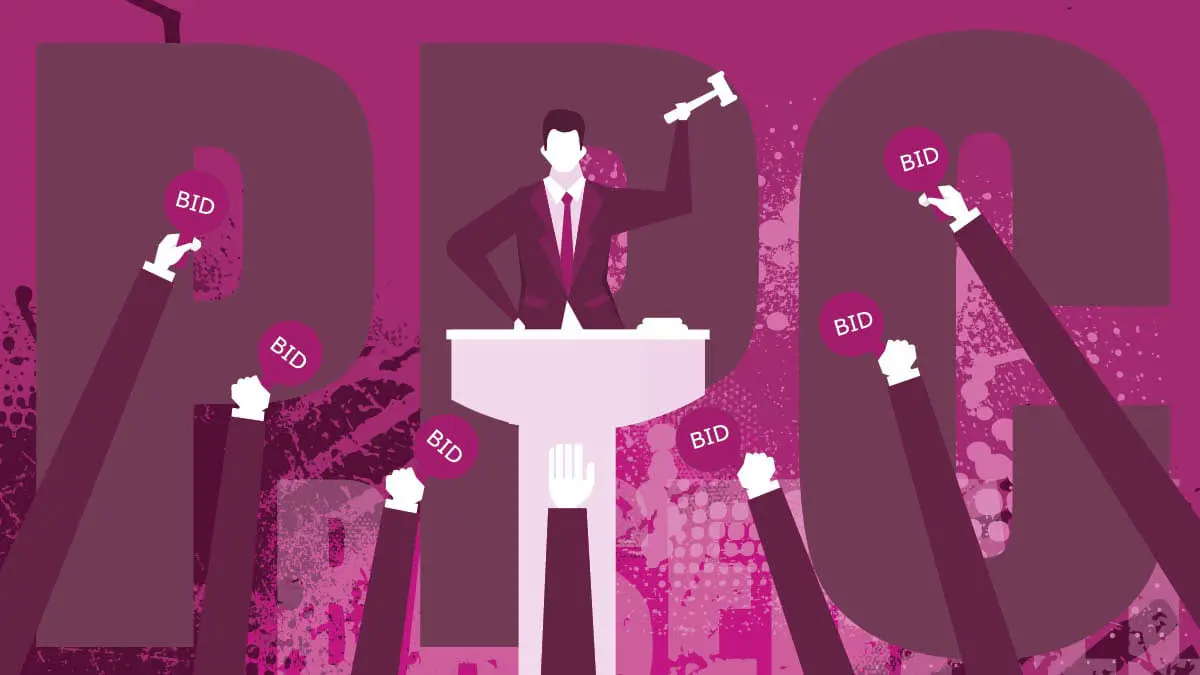 The cancellation of professional sports in 2020 had a profound impact on igaming search trends. FEARGAL BYRNE explores the impact of the pandemic on search behaviour.
here has never been a bigger change in search trends within the sports betting and igaming sectors in the UK than in the last 12 months. This has presented both a challenge and an opportunity for operators and affiliates alike. There were two drivers for this change: restrictions brought about by the pandemic and changes to sporting schedules. When the Premier League restarted, the schedule had to be altered with fixtures spread out over more days. As a result, search behaviour also changed. Looking forward, we also see increased restrictions on gambling advertising, which in turn will impact search volumes.
2019 VS 2020: LIKE-FOR-LIKE COMPARISON OF SPORTS AND CASINO
We expected to see online casino searches normalise while a surge in sports terms would drive customer acquisition. What we saw was something very different: sports terms did surge when the Premier League and horse racing restarted, as expected, but casino demand remained strong. The general trend from August to December (compared to the same period in 2019) was an increase in sports head term searches of about 20% in August, September and October. This was followed by a surge in November and December when searches increased by 50%.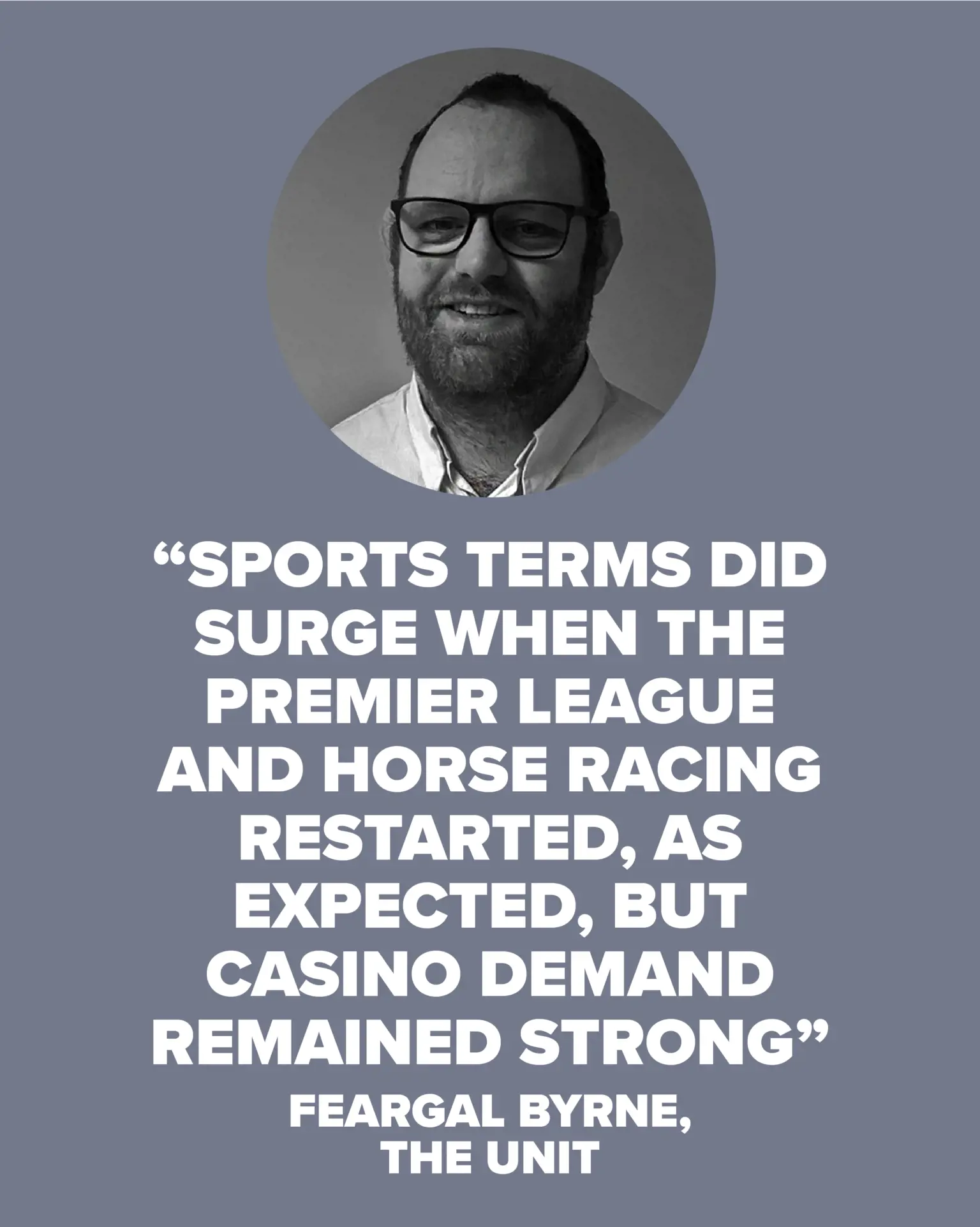 Casino demand, meanwhile, has been even more surprising. In August 2020, search volume generally matched that of 2019. Then September, October and November saw a gradual increase in searches of just over 20% compared to the same months in 2019. That's not the biggest surprise, though. In December last year, searches for the top casino head term "online casino" increased by more than 80% compared to December 2019.
DIVERGENCE OF BRAND AND DIRECT RESPONSE MARKETING WITHIN OPERATORS
Operators know the value of paid search. Consequently, there has always been a big demand for paid search traffic. Now, with current search trends for casino and sports betting, many more operators will be looking to get traffic from generic terms. This is good news for affiliates because taken on its own, this trend should increase CPAs. Unfortunately, there are other factors operators have to deal with that will squeeze margin. As a result, increased demand may simply help to maintain CPAs rather than increase them. Nevertheless, operators will need to rely on PPC affiliates to tap into this trend.
ADDITIONAL FACTORS FOR SPORTS BETTING SEARCHES
The UK advertising climate for sports betting is now very different to how it was before 2019. Restrictions on whistle-to-whistle advertising and arguably a more rigorous application of gambling advertising guidelines mean that paid search has become a more important customer acquisition channel. Tier-one operators have brand search volume many times greater than generic search terms. However, many of these searches are by current customers – only a small percentage is new business. Nonetheless, above-the-line advertising did drive substantial customer acquisition. Now, direct brand searches from new customers are moving to generic sports betting searches. This is especially the case for lesser-known brands. Affiliates can capitalise on this.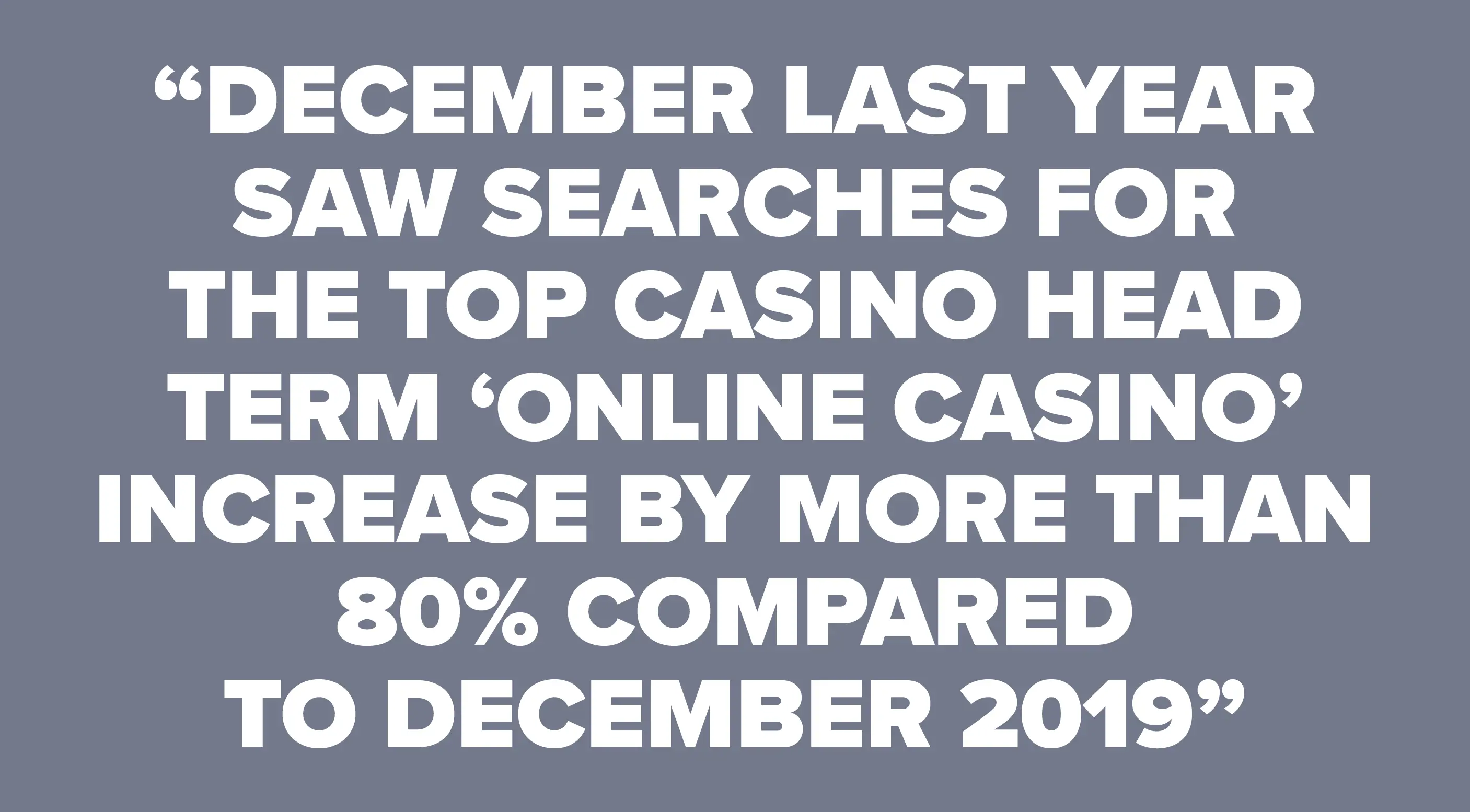 There is also the question of retail customers moving more of their betting online, in some cases setting up accounts with tier-two and tier-three operators for the first time. There is a distinct opportunity for these second and third-tier operators who have a solid online product to make inroads with traditional betting customers. Outside of Bet365, many of these potential customers are not aware of lesser-known online brands. Appearing on the grid on a PPC affiliate site can drive these potential customers to the site.
ADDITIONAL SEARCH FACTORS TO CONSIDER FOR CASINO
Casino search volume remained robust after the restart of sports and finished strongly in 2020. Volumes remain strong compared to both a 12 and a 24-month window. A core driver for this has been traditionally land-based players moving their play online by necessity. These are a different type of customer than the usual online player or sports bettor who occasionally plays casino. They are more research-heavy and hence will look at search engines and aggregator/review sites to identify casinos that meet their needs. All in all, there is a new cohort of online casino players who use search to find new operators and offers. Operators who leverage sports as a cross-sell tool for their casino product will be happy to see an increase in sports terms as well. This will contribute to new casino player acquisition volume, on top of the continued increase in direct casino head terms.
WHAT WILL OPERATORS DO?
The UK is a difficult market. Regulations and compliance requirements mean margins are squeezed. In order to target these paid search trends, operators have two options: target them with their own PPC ads, or get traffic from a PPC affiliate. When you see it from the operator's point of view with respect to internal costs and management requirements, the affiliate option looks best. As a result, affiliates dominate the paid search auctions.
INCREASED COMPLIANCE REQUIREMENTS
Cost-per-click across both sports and casino is ultimately derived by customer lifetime value and conversion rates. It is essential that affiliates keep tabs on the new regulatory requirements operators are implementing. The core reason for this is there is usually a lag in how these costs are absorbed and, as a result, how they influence marketing targets. With lockdown restrictions, additional guidelines were issued by the Gambling Commission. Post-lockdown, these guidelines are likely to still be adhered to. Proof of funds and KYC are becoming bottlenecks for higher-value UK customers. As PPC is one of the core channels for higher-value customers, reduction in conversion rates and restrictions will be factored into affiliate CPA agreements. Affiliates must gain an understanding of these changes so they can tailor packages that work for operators and build win-win relationships.
REVISED FOOTBALL SCHEDULE
A large change in paid search that came into effect last year and continued into the new football season is the spread-out fixture list. This has led to the tried-and-tested approach of focusing on 3pm Saturdays being expanded to cover the later kick-off times and open up midweek scheduling to drive conversion with more midweek games. This has also opened up opportunities to drive more conversions from returning users to your affiliate site.
CHANGES IN CASINO SEARCH TRENDS
We haven't seen any major fall-off in casino searches since sport returned. This may indicate more long-term customers for online casinos, made up of either new customers or land-based players moving online. Another way to interpret the search volume trends is that customers will rotate casinos more because they have more time to play. If this is the case affiliates are ideally positioned to increase the average number of operators a visitor signs up to.
THE IMPORTANCE OF PAID SEARCH AND AFFILIATES IF A UK GAMBLING ADVERTISING BAN COMES INTO EFFECT
It is not just the search volumes that have changed as a result of pandemic lockdowns and changes to the sporting schedule. Player protection has been highlighted as a key issue for the industry to focus on. The current climate has caused an increase in vulnerable people, and gambling regulators and operators must ensure that these vulnerable people are not targeted. A stricter interpretation of advertising guidelines is currently being applied. On top of this, there is the political sentiment to ban gambling ads from TV and other media. However, paid search activity is likely to be allowed to continue. This is because it is inbound advertising with the user actively looking for "betting sites". As we pointed out earlier, the absence of gambling ads on TV will increase search volume on generic keywords for both sports and casino. Affiliates will become a more important channel for operators if the ability to build their brand through advertising is taken away. This will especially be the case for PPC affiliates as the ability to lock in CPAs will appeal to many marketing managers.
CONCLUSION
During the first lockdown last year, there was a surge in casino-related searches in the UK market. Conversely, sports terms saw a fall in searches, which was to be expected given the fact that many top sports were suspended. We believed that the increase in casino searches would taper back to 2019 norms once the main sports restarted. Surprisingly, this did not occur. Instead, casino search volume remained robust and there was an increase in search volume for sport (roughly 20% more than in 2019) when the new season started. December delivered a spike in searches for casino showing that this increase in volume for casino terms may extend into the medium to long term. It is likely that both land-based casinos and retail bookmakers are suffering, and that the move by customers online may account for this sustained increase in search volume.

With it looking like restrictions on gambling advertising are coming down the line, paid search will become an even more important channel for player acquisition. Affiliates are likely to see both an increase in volume and an increase in the average number of operators with whom visitors create accounts. All things considered, the future looks bright for UK PPC affiliates.

FEARGAL BYRNE
has over 15 years of experience in paid search, eight of which were in the sports betting and casino space. He has worked in-house for operators and has also helped affiliates with their PPC strategy. He is currently the head of digital marketing for
The Unit
, an advertising agency specifically for sports betting and gaming brands.
Back to The Top