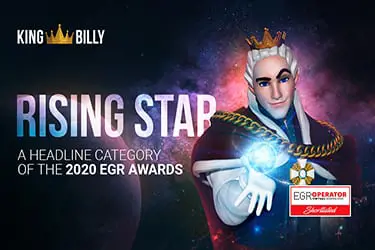 New-generation online casino aims for 11th award in just three years
If you happen to be a king in the fictional world, you are truly defined by your heroics: beating an army, poisoning a first cousin, marrying a second cousin, feeding a dragon, listening carefully to the palace's oracle etc. But if you happen to be a king in the online gaming world, then your mettle is measured by number of players, number of licenses and number of deposits.
And sometimes by number of awards.
Which bring us to King Billy, which is once again in the limelight. The new-generation casino has been shortlisted in the Rising Star headline category of the EGR 2020 Awards, apt news given that it has been rising ever higher over the past three years. Asked if he was expecting this special news, Volodymyr Harkusha, King Billy Casino CEO, replied: "Even though this is our 11th award in only three years of operations, frankly speaking, you can never take for granted that you are going to be awarded. Actually, I think that the moment you start expecting an award is the moment our unforgiving industry punishes you!
"Regarding the 2020 Rising Star EGR Awards shortlist, I must say that although all our awards have been important to me and everyone on the team, this strikes a special chord since it wraps up all the hard work, the joys and triumphs and even the disappointments of the last three years. We are very happy that this has been recognised by our peers.
"Finally, there's one more piece of good news for the kingdom! A few days ago, we got our accreditation from Casinomeister, one of the industry's best known and most respectable casino portals. Since there have been only 58 accredited casinos in Casinomeister's 22-year history, we actually think of this amazing news as our 12th award!"
So, are 12 awards enough for a king? In the fictional world – never. And neither, we suspect, in King Billy's world.
The EGR Operator Awards, known by many as the "Oscars" of the egaming sector, reward B2C operators for setting the standard in egaming, with categories ranging from customer service to social responsibility and more. The 2020 EGR Virtual Awards will be held online on November 11 & 12, 2020.
King Billy Casino is a new-generation online casino, available in six languages (English, Russian, German, Finnish, Norwegian and Japanese) with an impressive record of 11 awards, accreditations and nominations in three years of operations. King Billy has created a superb user experience by focusing on the legend of King Billy and his kingdom and treats all players with the attention they deserve.
Back to The Top