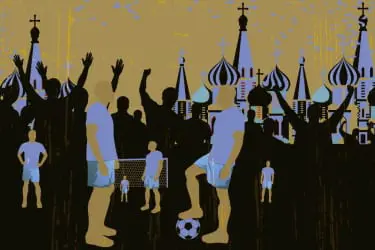 While the regulatory landscape in Russia is not the friendliest to online gambling, opportunities for sports betting affiliates do exist in the jurisdiction. DAN TAYLOR explores some of the key similarities, and differences, between Russia and other European markets
Gambling laws in Russia have had a very turbulent history. There have been frequent changes in regulations, which have affected both the legality and accessibility of facilitators within the country and how foreign companies can act in the market. With online casinos illegal in Russia, the global trend we've witnessed elsewhere of users moving away from the traditional brick-and-mortar casino towards mobile apps and websites hasn't been replicated in the jurisdiction. The Covid-19 pandemic didn't change this but it did pose an opportunity for regulators, not only to take better control of the industry but also to use the industry to better support mainstream sports – rather than latch onto it like a parasite.
In December 2020, a new piece of legislation was introduced to help promote further "transparency" and "control" in the Russian betting industry, with the aim of introducing a single independent regulator, better monitoring systems and a new system of calculating compulsory payments from the betting companies to the sports organisations that they offer bets on. Effectively, the legislation aims to better protect end users, as well as put an independent, compulsory, proportional amount of money back into the sports industry. It has been met with criticism – of course – but in January 2021 a secondary piece of legislation was passed to remove several outdated restrictions in the industry, making it easier for betting companies to operate within the market.
THE RUSSIAN SPORTS LANDSCAPE
Football and ice hockey are the most popular sports in Russia, both for participation and for spectators. For the purposes of this article, I'm going to focus more on the football side of things. The Russian Premier League consists of 16 teams, all of which play each other home and away. It's much like the English Premier League, only smaller. Also like the English Premier League, there is an abundance of teams from the capital city (Spartak, Dynamo, Lokomotiv and CSKA), a smattering of mid-sized clubs and a Russian equivalent of MK Dons in PFC Sochi. Originally known as Dynamo St. Petersburg, the club was moved 1,400 miles to Sochi, as no professional team existed in the city and it had the 47,000 capacity Fisht Stadium (built for the 2014 Winter Olympics) sitting dormant. The larger teams, most or all of which should be known to people outside of the country, are generally sponsored by heavy B2B industries, such as polymer manufacturers and energy companies. One of the teams currently has no shirt sponsor at all.Behind the scenes, secondary partners 1xBet, Sports.ru and WinLine are prominent with a number of clubs, and the Premier League itself has Liga Stavok (League Bet) as a principal partner. Five of the teams do display betting companies as their primary sponsor – the most conspicuous being Parimatch, which sponsors Khimki and Tambov as well as a large number of advertising hoardings across the league.
MARKETING BETTING PRODUCTS IN RUSSIA
So, once you've navigated the various legal restrictions of entering the Russian gambling market, the second challenge is marketing to users, gaining the brand awareness and trust, and then the FTDs. Both Google and Yandex are dominant in the market, with Yandex holding 44% and Google a 53% share (at the time of writing), making this one of the most competitive battlegrounds for Google. For the most part, Google operates the same in Russia as it does in other countries, so I'm not going to focus there. Instead, I'm going to focus on some of the nuances that Yandex has that will affect how you attract 44% of your potential target market.
BRAND PERCEPTION AND SOFT SIGNALS MATTER
Yandex has a secondary algorithm of sorts known as the ICS score. This runs seemingly in parallel to Yandex's regular algorithms and updates frequently based on user data. The ICS system is designed to be a universal metric that measures whether a company offers good value and is trustworthy. It is a way of quantifying customer happiness and providing businesses with insight into how well they are doing in relation to their competitors.It's also believed that the Net Promoter Score (NPS) impacts the ICS score. This is a customer loyalty metric that works on a scale from 0 to 10 by asking participants one question: were you a promoter of this brand to your friends, family or colleagues? Promoters are given a score of 9 or 10, with other categories being detractors (scoring 0-6), and passives (scoring 7-8). Anything without a ranked scored is classed as uncommitted. The NPS calculation for Yandex is done using email traffic data and customer support requests received through their branded form requests.
JAVASCRIPT WARNING
Importantly, to rank in Yandex, make sure your content is not rendered in JavaScript. Yandex's documentation outlines that the search engine can't render JavaScript, so it's therefore very important that your user acquisition content is available in plain HTML and indexable. This may mean running a second stack to your applications PWA or interface, or even something as simple as a reverse-proxied WordPress install to house all of the content you're using to rank and attract new users with.
Back to The Top