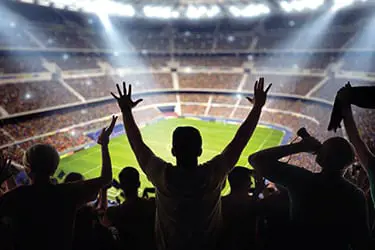 With the year's biggest betting event nearly upon us, Roy Coughlan of The Media Image provides an invaluable guide to getting the best out of your PPC activity this summer. 
After four long years, the wait for one of the world's largest football competitions are finally over. The 2016 UEFA European Championship is only weeks away, and operators are getting their houses in order to cater for the masses of punters looking to take advantage of the summer tournament markets. After crazy domestic seasons in and around Europe coming to a close, inspiration can be taken from some rather improbable outcomes, and the momentum is steadily building. The last financial year saw a serious lull during the months of June and July, yet with the Euro 2016, the opportunity to drive players through well-oiled PPC strategies bodes well for operators and affiliates alike. The following are tips in guaranteeing a successful campaign.
Grow longer tail terms and enter earlier
Bidding for the short-tail head terms will always be expensive, not only due to the potential to drive acquisition, heightened by the size of the tournament, but the likelihood that yearly budget has long in advance been planned around the event, and the SERPs will be cluttered with entities, both large and small, trying to gain their share of the market. Since the 2014 World Cup, there have been a number of changes to the Google AdWords platform and algorithm, yet the most notable change has been Google's decision to remove right hand-side ads from the SERPs. This seismic change was rolled out very recently and the full impact is still being measured. However, bidding on the core tournament terms and short-tail keywords will be highly aggressive. Capturing players through long-tail terms becomes more of a necessity than ever before, and building out an extensive keyword set covering multiple categories helps drive traffic and expand reach and visibility. The longer tail terms can be snapped up at cost-effective prices and lead to lower costs per conversion (CPA). While most operators will look to drive traffic through "betting" focused keywords, there are always great opportunities around research terms such as odds, tips and predictions, with these being far cheaper and less competitive. Affiliates usually run this space, yet their activity can often be sporadic as a result of lower budgets and time-related offers. Using the World Cup as a proxy for analysis, it is evident that search volume was at its highest during the first few days of the tournament (see Figure 1) Going live early is key to building quality score and gaining a significant position. With a broader set of terms, it will provide a better understanding of customers' search trends and patterns around certain terms. Growing a keyword build focusing on the various markets on offer allows for targeting interests at different stages of the tournament too, as pre-tournament search behaviour will differ from that during the group stages, and into the knockouts.
Tag it, track it, measure it
One of the most important elements of your paid search campaigns should be ensuring that tracking has been implemented correctly and also created in conjunction with other channels. With the correct tracking in place, decisions can be made quickly and effectively, which is crucial to optimisation in real-time. The resulting data will be extremely useful in measuring the success of the campaign against targets. It will also add value by helping justify future decisions pertaining to events in both the short and long-term. From an attribution perspective, clarity regarding how the various channels work together is pivotal in understanding the effect of running activities in conjunction. For instance, promoting an offer for the tournament across one channel can be tied to the uplift of search and acquisition on another, and can help justify investment.
Do it yourself, or leave it to a robot?
For a sports betting operator, whether to automate bidding or optimise manually is something of a bone of contention. This is because while algorithmic bidding software is ideal in many verticals, even being effective across casino, for live eventbased accounts it can prove to be somewhat ineffective. On the one hand, algorithmic bidding offers the ease of management and is usually effective in achieving targets. On the other, the software is not as reactive to real-time events and certain targeting rules can be affected by exogenous factors, such as an offer being out priced by a competitor. Most PPC practitioners who use bid management software often find success adhering to positional rules, considering that +80% of potential clicks are accrued by those in the top 2 positions of the auction. Within a competitive SERP, this can prove fruitful. Manual management may be time consuming and result in many PPC campaign managers watching the weekend fixtures from their offices instead of at home or in the pub. However, this will allow for tighter harnessing of activity and the ability to react to changes in the space without losing out on volume.
Be prominent and pack a punch
The ads are the most important part of the operation and all advertisers will have a bespoke strategy of what messaging they will include, and how and when they serve them. A few additional features can be utilised to provide additional value in the pursuit of increasing CTR%. Another development from Google will be the roll-out of Expanded-Text Ads, allowing advertisers increased characters with which to entice customers to click through to their sites and sign up. Based on current estimates, these expanded ad formats could potentially boost CTR by up to 20%. These will allow for the addition of the searched terms, multiple calls to action, brand slogans and company features. The format will also allow bookmakers to more clearly feature trading offers and it easier to explain the more complex offers. The Bing Ad platform has an ad extension that allows you to add images to your ad, which can be extremely effective in increasing CTR. Think of country or player-specific images being appended to your ads and the dividends this should pay in the build-up and during the tournament. This is yet another opportunity to improve the overall quality of the ad and give you the competitive edge (see Figure 2).
Odds and offers: if you've got it, flaunt it
Why be shy and have customers dig around your site when you can promote odds related offers within your ads? If it's time consuming to manually write these in, and there is a concern that odds may change, then it may be possible to create a feed from your site to your ads that will dynamically update odds within the copy. There are scripts available and the logic can work well for certain sites, so the investment into this could be celebrated come kick-off time.
Clear and customised is key
Landing pages should be as relevant as possible and optimised towards not only the keyword, but the general theme of the search. This is important because of how Google judges your quality score and is a factor in how much you pay per click, yet it can also prove even more important in the customer's decision to convert. Having landing pages optimised towards Euro 2016-specific keywords and reflecting creative relevant to the event is half the battle won. Customising pages to different teams, players and markets will also give that much-needed edge in competing against those competitors that have generic landing pages and are content with directing to their home pages. Additional features like dynamic odds updates and quick links to related markets can spark further interest and improve the experience for the customer. PPC campaign managers will have their work cut out for them around Euro 2016, and had better start preparing by focusing on the most important goals for the business. Driving acquisition in the build-up and during these big events can be made that much simpler by implementing some of the above actions, and should alleviate some of the mounting pressure on acquisition managers. The time is now to make the most of the tournament, so you can kick back and enjoy all the action.
​​​​​​​​​​​​​​​​​​​​​​
Back to The Top