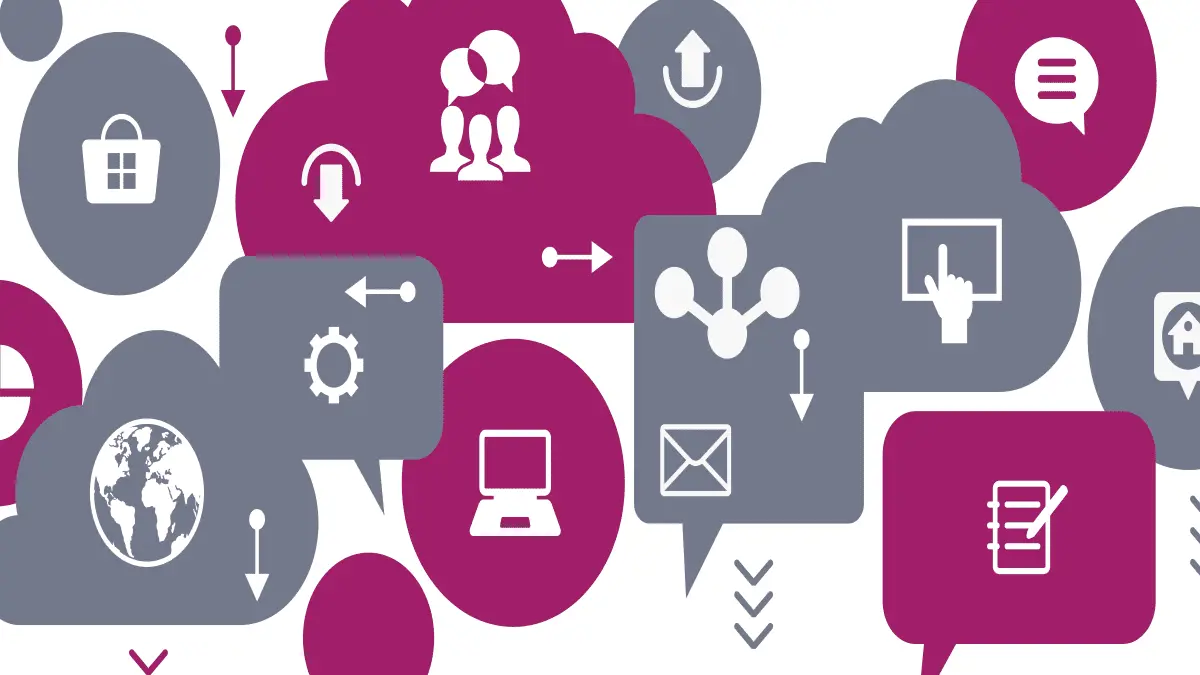 Many SEOs are quick to jump to conclusions when they see big ranking changes coinciding with a known Google update. But first impressions can be misleading, writes Julia Logan.
On 3 June 2019 Google announced a core update to its algorithm, which was rolled out to data centres in the following days. While it may be too early to discuss what the update is all about, I thought it would be interesting to see if any igaming sites have been affected by the update and if so, how it impacted them. Keep in mind that on 6 June, Google also announced another unrelated change that is supposed to increase site diversity in some SERPs. This makes it even more interesting to analyse and mixes things up a bit, making it trickier to match up which ranking changes are due to which Google changes.
In this article I hope to demonstrate how to analyse the effect of Google updates on a site's rankings – and to identify the real causes of sites' organic ranking changes. SISTRIX, one of my go-to SEO tools, publishes a weekly list of winners and losers based on the data they collect. Fig 1 belowshows the list for the UK. Remember this is external data (not Google Search Console or Analytics of each site) and, as with any external tracking, the results depend on the set of keywords the tool is tracking in each country and vertical. If anyone has internal knowledge of any of the domains I will be discussing and sees a different picture, please excuse any possible incorrect conclusions due to incomplete data.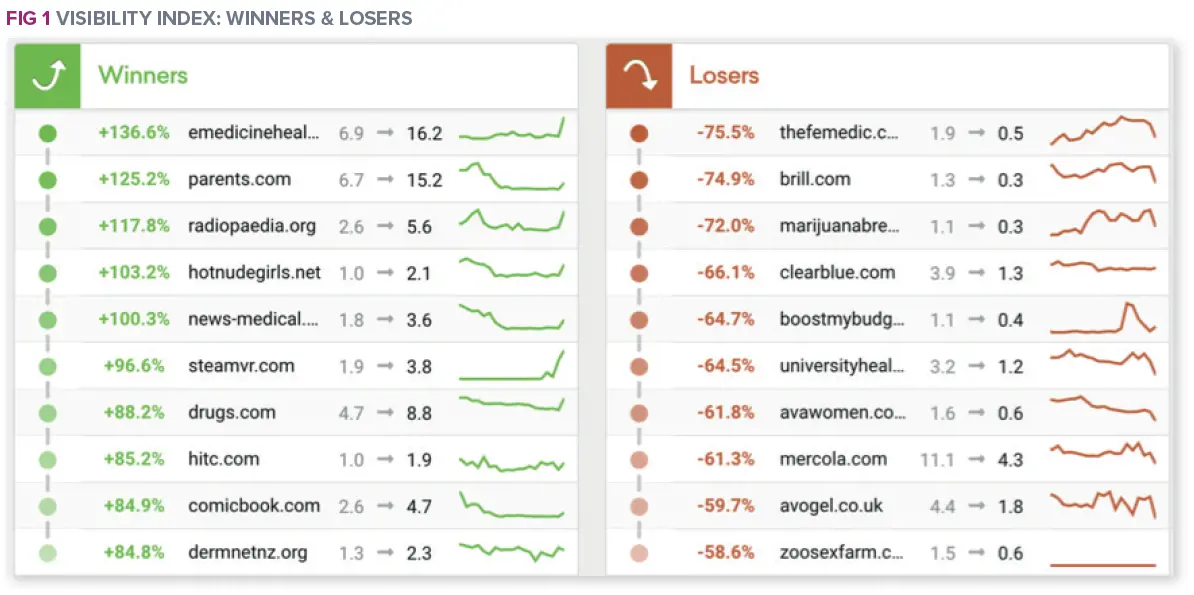 WINNERS AND LOSERS
I found two igaming domains in the visibility index right after the update: betway.com reported as a loser and pokerstars.com reported as a winner (Fig 2).
Let's analyse what's happened to these two domains. Many SEOs are quick to jump to conclusions when they see ranking changes coinciding with a known update, but it is important to dig into the factual data available and understand the real issue. Without understanding the true causes of a ranking drop, it's difficult to counter the drop and rectify the situation. Similarly, if you understand what makes a site rank better, you'll know what type of behaviour is more likely to be rewarded. This will help you achieve better organic visibility going forward. We'll start with betway.com. First of all, although its drop coincided with the core update, it is pretty obvious the two were not connected (see Fig 3 below).
By the time the update was announced, Betway had already lost 24% of its organic visibility. What ensues in the week following the announcement is merely a continuation of this downward trend. But what has really happened in these two weeks? We may never know everything but according to Majestic, betway.com had lost a record number of its backlinks the day before the visibility drop started (Fig 4)
Examining the nature of these links, we notice a fair few link to pages about specific sporting events. This one, for example: https://sports.betway.com/ soccer/england/fa-cup/afc-wimbledonmillwall- fc/win-draw-win/1?aId=[affiliate id] &outcomeid1=375039513&tPub=[affiliate site] (NB: URL obscured so as not to reveal the actual affiliate ID and site.)
Such pages – and links to them – are temporary by nature for several reasons. First of all, this particular game took place in February. Seemingly, once a game has happened and is of no interest to bettors, Betway removes the page and redirects it to a more general URL higher up in the site hierarchy, in this case to https://sports. betway.com/en/sports/grp/soccer/england/ fa-cup. Of course, this more general page is not relevant for those very specific event and time-related queries to which the original page has ranked –
so the site's overall organic visibility may drop.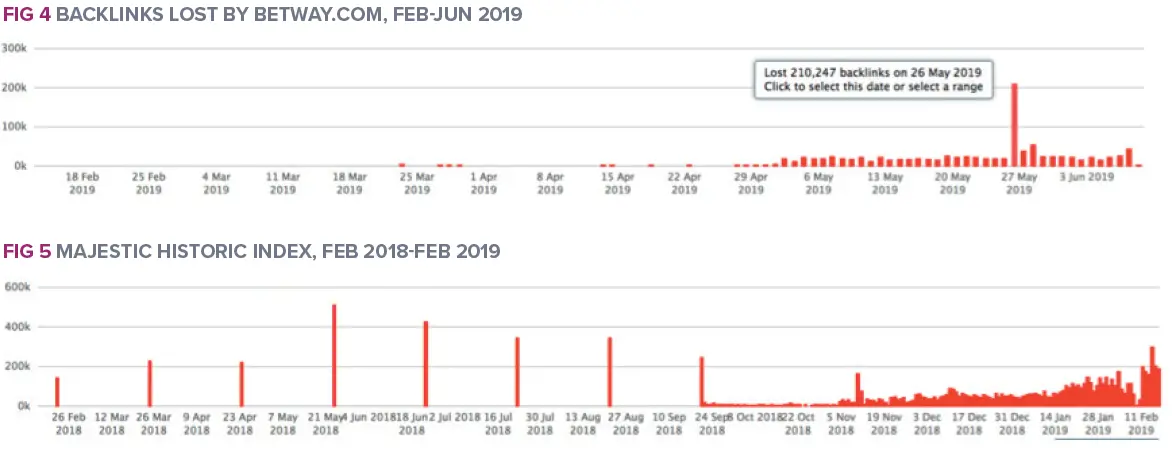 FLEETING LINKS
As for the links, quite a few of them come from affiliate sites that use real-time data feeds to display the sports events data, including betting options, and link to dynamically generated URLs allowing the visitors to bet on specific outcomes. As soon as the event is over, the data feed is updated and new events are pushed to the affiliate sites in place of the old ones, effectively removing the old links. Why the spike in lost links on May 26, though?
Considering that many of them were to the pages for events that happened months earlier, I am not sure those links physically disappeared on that particular date. In fact, if we look at the historic index of Majestic, there are spikes in lost links approximately once a month for the whole year (Fig 5). My guess is this is Majestic's way of handling checks for old links of sites with larger link profiles. This would have been problematic were it a one-off occurrence; however, the nature of the site is that it covers a host of different sporting events happening at different times. Thus as one group of events finishes, the next one starts. This allows for spikes of visibility and traffic at certain points – and even a year-over-year growth in the longer term (Fig 6).
For example, Betway's organic visibility as of 10 June 2019 has grown 132% compared to its visibility on the same day a year ago – and this is just for the relatively limited amount of keywords SISTRIX is tracking for this site! Clearly, it would be harsh to label them a loser. In fact, this case demonstrates how it's important to see the bigger picture and not just one point in time as reported by any tool.
But what about our reported winner, pokerstars.com? Well, according to the organic visibility graph in SISTRIX (Fig 7 below), there's a clear growth after the June core update, as PokerStars' rankings improved for 236 keywords during the following week. However, for 426 keywords the rankings actually decreased. Mostly, these are keywords with lower search volume and hence lower traffic potential, but for one: poker games. This is a keyword with significant monthly search volume, so brands must feel aggrieved to lose rankings for it. But looking closely at the SERPs, PokerStars has not one but three of its domains ranking here! (see Fig 8 below)
As pokerstars.com loses its rankings, pokerstars.uk gains. There's also a less visible pokerstars.net somewhere in these same SERPs. This is not the only keyword where such triple presence is in evidence: for the brand query "pokerstars", the three domains consistently occupy three out of the top five spots, switching positions at will (Fig 9).
And considering that sometimes there can be multiple URLs from the same domain ranking, it can even turn into four out of five top spots. So, regardless of each particular domain losing or winning rankings every week for different keywords, it looks like the PokerStars brand is a consistent winner. But here's the really interesting bit: if you access either the dotcom or dotnet domain versions from a UK IP, you are redirected to pokerstars.uk. The same happens in other countries: visitors accessing one of the brand's gTLDs are redirected to the corresponding ccTLD.
The gTLD domains simply do not exist as standalone sites. Yet we see them ranking – and ranking quite well. A bit of history: both the dotcom and dotnet domains were first registered in 2001, with PokerStars using the dotcom domain until it was seized by the FBI in 2011. Then the brand switched to dotnet. PokerStars.uk was registered in 2014 and the dotcom domain apparently started redirecting the UK visitors to it in 2017 (Fig 10).
However, all three domains, especially the dotcom and dotuk ones, have enjoyed pretty decent levels of visibility up to now. Google's site diversity update would have had no bearing on matters as these are three different domains and Google apparently still sees them as such, despite the redirect being in place for some time already. The above is an example of successful use of multiple properties for organic visibility benefits, even though one may argue in this case things are a bit shady.
This article is not a conclusive audit of either of the above domains, nor will I suggest further recommendations as I have not been hired by either site to do that. However, it should illustrate how much effort is required to get to the root of organic visibility changes due to Google updates. First impressions can be misleading, and while it's a good idea to keep track of search engine announcements, affiliates shouldn't draw conclusions of the impact updates will have on their sites without further analysis.




Back to The Top