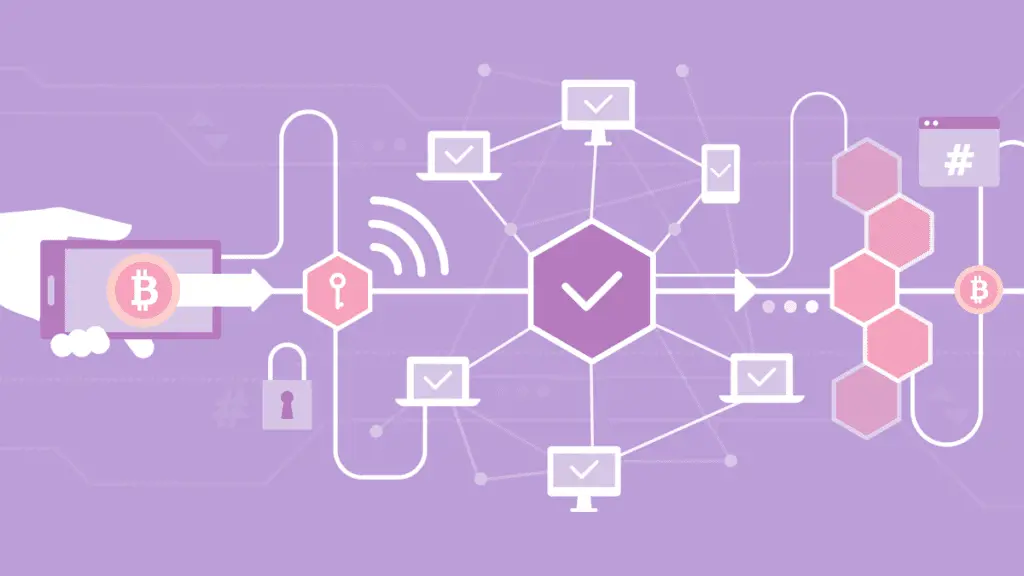 We've all heard about the dark web, the place that search engines can't reach and which can only be accessed via encrypted TOR connections. Users can visit and interact there in absolute privacy.
We've all heard about the dark web, the place that search engines can't reach and which can only be accessed via encrypted TOR connections. Users can visit and interact there in absolute privacy.
With the advent of cryptocurrency, we now have a combination of absolute privacy for internet users and a means of value exchange via bitcoin and the like. Now you know why governments are so nervous about it. Along with the dark web, of course, you've got 'dark market gambling'. These are gambling operations with little or no regulatory control.
DISRUPTIVE INNOVATION
Disrupted markets occur when there is a new innovation releasing pent-up demand. Some examples would be:
The iPhone, which ushered in the smartphone age.
Revolut and Transferwise, which overcame the inertia of mainstream banking to enable people to transfer money at a fraction of the cost charged by banks. No cryptocurrency involved.
The US government alcohol prohibition in the 1930s, which triggered an explosion in illegal alcohol production.
Cryptocurrency, which emerged as a means of cash transfer without the intervention of governments or banks.
Online gambling, which really emerged with online payments.
Thirty years ago no one could have predicted the rise of online gambling. Why? Simple: there was no public internet. Twenty-five years ago, you might have predicted the rise of online gambling, but there were no payment systems. When you combine certain innovations with certain pain points and pent-up demand, then, you've got a recipe for disruptive change. As long as consumers are satisfied, why would they be driven to change? Does gambling regulation ultimately lead to dissatisfied customers? I argue it does.
THE LICENSING CONUNDRUM: WHY IT KILLS INNOVATION
The app store, the tech start-up scene, new game ideas… all of these sources of innovation compete in their marketplaces with the best innovations winning. In gambling, we have an odd confluence of the biggest marketplaces having the greatest restrictions to innovation. What does innovation look like in online gambling? It might be a different mechanic for a slots game. For example, there is a substantial market pressure to satisfy egamblers.
In 2015 the Nevada Gaming Commission adopted legislation which encouraged the development of skillbased gambling games to satisfy the millennials/egamblers. And in 2017, Scientific Games created Space Invaders, a 60-line slot based on the eponymous arcade game. Whether it was successful or not is a moot point because the overall consensus in the igaming industry is that skills-based slots don't make money.
Research has shown that millennials view slots players as 'old' and millennials have an aversion to traditional slot-based online casinos. But then, why would a millennial who has spent thousands of hours gaming be interested in a slots game that has no skill element and is mostly played by 'old' people?
In the Nevada case, the industry is trying to innovate within a very restricted framework: physical gaming machines, games placed within land-based casinos and games only used within one US state.
Perhaps it's not surprising that we've never seen a proliferation of skill-based slots games online. If I wanted to launch a new type of casino game in the UK I would have to obtain a remote gambling software licence from the Gambling Commission. To do this I would have to:
Meet numerous technical standards for my casino game.
Once the game was built along the required guidelines, I'd have to submit my game to a testing house, together with a completed 19-page form. The checks are exhaustive and often not relevant to the game itself.
I'd have to pay the testing houses. Then I'd have to pay the UK Gambling Commission an application fee ranging from £5,711 up to £14,647 and after that an annual fee of between £3,748 and £49,219 just to allow my game to be played in the UK.
If my game didn't pass the inspection, I'd have to reapply for a licence (and in the process spend more money).
Once I'd gone through this lengthy and expensive process, I'd then be able to compete with the other 200+ game providers in the market.
My new game would also have to compete with the 10,000 or so other published casino games.
I would have to convince operators to give up real estate for my innovative game. Trouble is, they already make big revenues from reliable winners such as Starburst, so why should they give up real estate for mine?
If I wanted to make any meaningful changes to my casino game, I'd have to go through the licensing application process all over again and I'd probably have to fight for my prominence with existing operators.
Have you got an innovative online gambling idea? Would you go through all this cost and administration before you've even market-tested your product? Probably not.
WHERE IS IGAMING INNOVATION?,

The 'dark' or 'grey' igaming marketplace is where you see most dramatic innovation taking place. The biggest driver to this innovation? Cryptocurrency. You may have heard of 'minimum viable product'. Well, there's another variation called 'maximum viable product', which is relevant to online gambling.
With minimum viable product, the thesis is to launch some kind of very early beta product and see how users engage with it. If it's a bad user experience, revise and reintroduce until you incrementally improve the product sufficiently for wider adoption.
The maximum viable product thesis says: build a very focused 'best' test product. Launch this to a narrow market segment. Then, if you get market adoption, revise the product incrementally. Basically, you're trying to avoid giving users a bad experience if at all possible.
Both minimum and maximum viable product have one thing in common: to minimise the cost of experimentation. To create a successful dark market crypto gambling game, you only need four main ingredients:
Web users.
Software.
A good idea.
Cryptocurrency.
One thing's for sure: you don't need a gambling licence or banks. According to Statista there are about 40 million cryptocurrency wallet holders globally. That number will inevitably rise. There's also a growing market for crypto gambling – and a crypto KYC loophole. When a gambler deposits funds into a casino or sportsbook using governmentbacked legal tender (i.e.. GBP or EUR), there is a presupposition that the operator does not know the origin of these funds.
Therefore, a player must be ID checked for a deposit to be accepted. With cryptocurrency on the other hand, the presupposition is: you buy your currency through an exchange and you will have done the ID verification at point of purchase. Most cryptocurrencies are pseudo-anonymous: if you know the identity of the wallet holder, you can track every transaction from that individual.
The catch with pseudo-anonymity? You might not know who the wallet holder is. As a result of this pseudo-anonymity, depending on which licence you've got or whether you are licensed, there's no legal obligation to verify a user before they make a deposit. However, there are anti-money laundering laws in place which state that if a certain amount of money has been deposited or withdrawn, players must verify their identity.
Crypto casino operators want to avoid accepting customers from restricted jurisdictions such as the UK or the US, so they will take reasonable measures to flag up and ID-verify players who might appear to come from banned jurisdictions. Between making your first deposit and reaching an anti-money laundering deposit/cash-out threshold of about $2,200, there is 100% privacy for every gambler.
The implication: the threshold to setting up a crypto gambling business is low. Experimentation costs relatively little. The opportunity for innovation is high.
WHAT ARE THE INNOVATIONS?
Crash
Game mechanic: Time over a reward. The longer you stay in, the more you could win, but the more likely you are to crash out – hence the name.
Strip roulette
Game mechanic: Place a bet on either 'A' or 'B' and win double your stake. Or bet on 'C' to win 14 times your bet. The house edge will be based on whatever the operator thinks will create the most profits. If the house edge is too high, players lose too quickly and go somewhere else.
Loot boxes
Game mechanic: Lucky dip. Pay a sum, buy a 'loot box'. Open the box and you might win a virtual item with a market value greater than the cost of the actual loot box. Numerous game adaptations
Overall mechanic: Provably fair games with approximately 1% house edge, adapted for the crypto gambling community.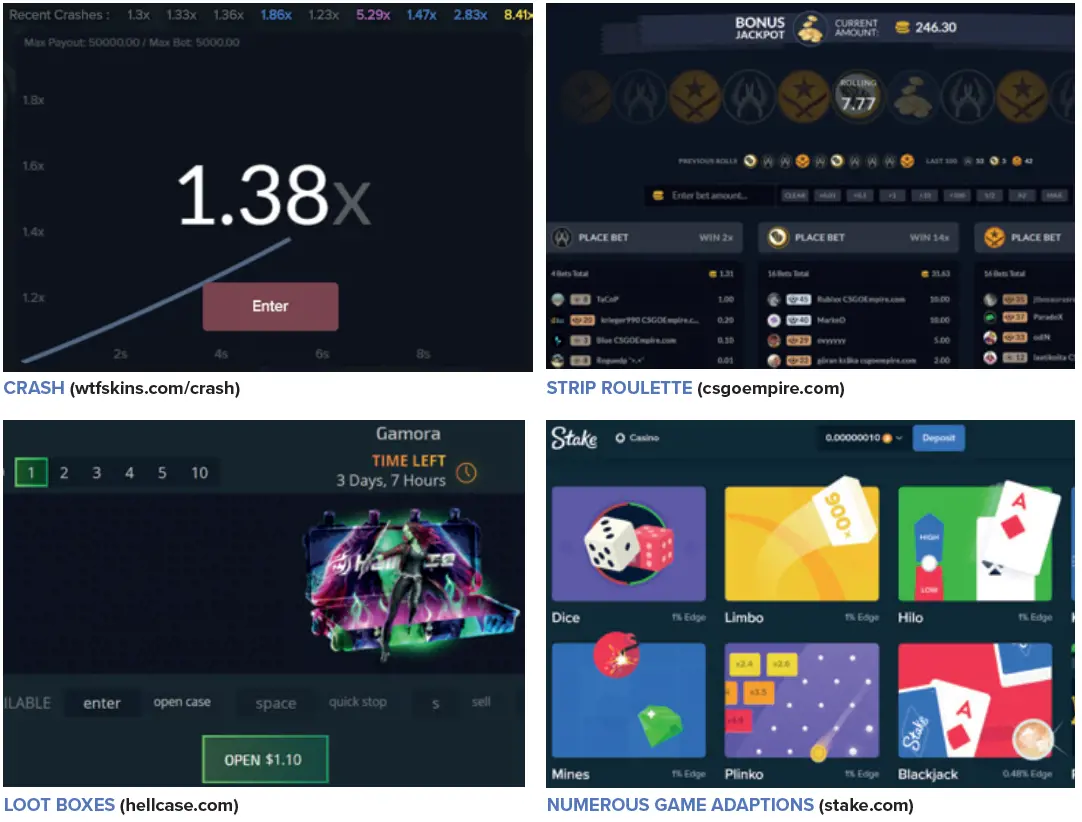 PROVABLE FAIRNESS
If a game was NOT provably fair, the operator's systems might flag up a player who's had a big win. Then, before the result of the game is published on the website and the player finds out they have won, the operator might change the result so a player does not appear to have had that big win. Casino avoids spending money, player never knows what happened. Sounds sketchy? It is.
Nearly all crypto games rely on provable fairness. Here's how it works:
A hash code with encrypted information is generated ahead of a spin or round.
The encryption algorithm is open source and therefore trusted.
A player can retrieve the hash code for a specific spin or round.
Player decrypts the hash code after the spin or round has occurred and sees the game result.
Provably fair games show that a game result has not been retrospectively tampered with. Combine access to an anonymous cash exchange (crypto) along with games which are provably fair, and it'll mean players don't have to trust the operator so much. Tens of thousands of egamblers trust provably fair games.
I'm writing this article on a Sunday afternoon and I can see that these crypto operators are busy. Stake.com has 1,669 players online, Hellcase.com has 1,416 and CSGOEmpire.com 1,152. Another, CSGOlive.com, has 582 players online. How many of these brands or their games have you heard of? I rest my case. The sad part is, you will never see innovation like this in regulated jurisdictions such as the UK.
WHERE THIS IS GOING
As I've explained before, disruptive change occurs when you remove barriers to consumer satisfaction.
If gamblers in regulated jurisdictions are happy with a) relatively low return-to-player margins (i.e. 96%) and b) continuing to play slots or betting on sports in the same way they've been doing for the last 20 years, then there will be no big driver for change.
However, at some point with regulated markets we will end up with a form of duopoly. One monopoly is the gambling regulator, who will have absolute power in that regulated market. The other monopolies will be those large gambling companies that survive the administration and taxation overheads needed to compete in regulated markets – William Hill, Ladbrokes, Paddy Power and Bet365.
However, outside in the dark gambling market there is a vibrant and growing ecosystem, with astonishing innovation and hundreds of operators with different game ideas all competing for customer engagement.
In my view, the trigger event for disruptive change in regulated markets will be the spending power of egamblers/ millennials, i.e. the same people who play esports. As esports rises in popularity, those players will want to enjoy gambling games. But as research proves, they don't want to play slots.
Instead, egamblers will play Crash or strip roulette or loot boxes with cryptocurrency. And the regulators will have very little power to control this. Just look in the dark markets to see the future.
Back to The Top