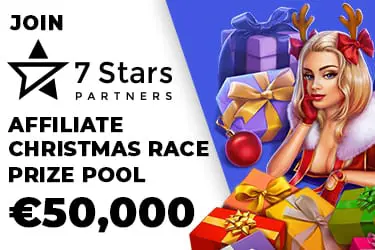 Glittering pot of €50,000 up for grabs
This winter,
7StarsPartners
is putting the star at the top of the tree with a holiday season special. Partners dreaming of a white Christmas can sign up to our Christmas Race offer free of charge, and could win a portion of the icy €50,000 giveaway.  Taking place from 11 November to 21 December, the competition will ring out the festive bells to celebrate the most wonderful time of the year. It will be divided into two parts:
The first is for partners with an average of more than 100 FTDs for the last three months
The second is for all other partners
The objective is to reach as many FTDs as possible during the promotional period, with rewards granted to the top 15 partners in each race. Those who can get customers rockin' around the Christmas tree could find a handsome gift tucked into their stockings! Let's make this our merriest Christmas yet!
Back to The Top