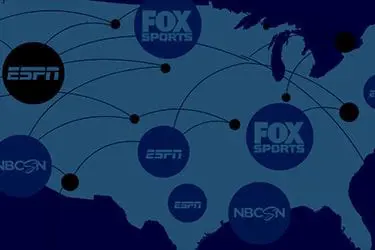 In the nascent US online betting and gaming sector, traditional igaming affiliates are facing significant competition from major media brands moving onto their patch. Jake Pollard looks at how the likes of Fox Sports, ESPN and NBCSN can leverage their massmarket audiences to become operators' principal source of traffic
The US igaming affiliate and media sector has some similarities with the EU industry but in other ways it is also very different. The first and obvious difference is how 'media' is defined in the context of igaming as we know it in Europe. On this side of the Atlantic it is mainly viewed through SEO, PPC, advertising and marketing. All those skills obviously play an important role in the US, but they are at a very different stage in their development. 'Media' in the context of the US betting scene is about the prevalence of betting content: videos, betting and sports features, markets or spreads. For a European observer the format is distinctive and differentiates substantially from what their experience of the sector is up to now. The repeal of PASPA in May 2018 is often seen as a watershed moment in the US gambling industry and from a regulatory perspective that is certainly the case. Regulation of online and landbased sports betting and casino gaming has spread at breakneck speed across the US in the intervening 18 months and created much momentum and excitement for stakeholders. And that is without the major states including New York, Texas or California nearing any kind of regulation of their respective sectors – at the time of writing in any case. When it comes to the role US sports media could play in driving traffic to operators, acting as 'traditional' affiliates, it is clear the likes of ESPN, Fox Sports and NBCSN, along with data- and stats-focused outlets such as theScore, Action Network or Rotogrinders, have the readers, reach and target audience to adopt a business model that could bring substantial new revenues to their coffers. However, if we take a step back and look at US sports betting along more Thistorical lines, it is also clear that this content has always been present and broadly accepted across US society, media and film. That the relationship is even more pronounced in these post-PASPA repeal days is not surprising, of course.
SOCIALLY ACCEPTABLE?
Visiting and browsing US sports media outlets, an unaccustomed reader would think sports and betting content are joined at the hip. To a certain extent they are, such is their prevalence on screen. Does this mean sports betting is widely accepted as a mainstream leisure activity in the US? Maybe, but as mentioned, its presence on TV screens, online, mobile or on radio airwaves is nothing new. As David Purdum, gambling industry reporter at ESPN, says: "The acceptance of sports betting as a leisure activity among sports fans has grown, but really it's always been there. "Sports betting prognosticators have been a small part of US sports media for decades. Bookmaker and noted gambler Jimmy 'The Greek' Snyder was a staple on NFL pre-game shows in the 1980s, and throughout the last few decades various media outlets have featured prognosticators who made point-spread picks, some more openly than others." This trend is only going to increase as sports media and betting continue to converge, especially within an environment where print newspapers' media revenues have been falling for the past 15 years and those generated by online advertising have not grown enough to offset the losses. With that in mind, it is only normal that those media groups would look at affiliate models and seek to make use of their audience size, brands and reach into what is the perfect target audience for sportsbooks. Affiliate revenue is an obvious way to develop new revenue streams. One of the key questions therefore is whether the affiliates already connected to the gambling world (what the sector would describe as the 'traditional' ones) will be able to compete against the mainstream press outlets with their giant audiences and brand names.
NEW TERRITORY
Gambling.com Group is one of those 'traditional' igaming affiliates. Does it see those media conglomerates as major rivals when it comes to driving US sports betting and gaming traffic? CEO Charles Gillespie says in some respects it is a tradtional affiliate and the US has forced the group to pivot in the way it operated historically. "We have put together a first-class US media team with 15-plus reporters and journalists and are the first gambling industry company to be accepted to the Associated Press Sports Editors group," he explains. "We are investing heavily to bring some of the best reporting and content to the US market around all forms of sports betting. "This is somewhat new territory for us as we have historically been focused purely on performance marketing or 'the bottom of the funnel'. This type of content has broad appeal and is not directly tied to users signing up for new sportsbooks accounts. "This 'top of the funnel' content is what traditional media companies like ESPN and Fox Sports produce. Given that we are broadening our reach and investing in this new area, I do now see them as competitors for a certain part of the business. They are not however competitors for our core business of performance marketing." Producing content is one of the new strings US affiliates are adding to their bows, but stats and data also play huge roles in the US. Does this make it even more difficult for new entrants or affiliate start-ups in the market? "It certainly doesn't make it easier. We have data deals with a variety of suppliers and integrating and monitoring it is of course a lot of work," says Gillespie. "Many of the data products that come off the shelf are not adequate for the US market or not a good fit for affiliates, so some bespoke integration is required for anyone trying to deliver a compelling product to US consumers." The fact that US sports media seems much more comfortable discussing betting, tips and odds on screen than is the case in the UK implies that it's been accepted in the US as a mainstream leisure activity. In fact, Gillespie explains, the US media is still finding its feet in terms of what level of betting discussion will be appropriate long term. "Shows like Lock it In are 100% sports betting and I think from a media investment perspective still experimental," he says. "Not in the sense of whether it will be profitable, but whether it will be socially acceptable – to society, regulators, problem gambling interests and so on. "The UK has much more experience of combining legal betting and sport, and all parties seem to have settled on an unwritten rule that sports media coverage will not engage directly with betting." SEO and PPC marketing are still in the very early stages of their lifecycles in the US. This means the likes of Gambling.com Group, Catena Media or Better Collective, while still able to attract decent-sized audiences with their content sites, don't have the same gravitational pull as a Fox Sports or ESPN. Says Gillespie: "People don't search as much for gambling or for the same things as they do in Europe. This is changing fast, however, and that 'normalisation' will accelerate with the opening up of the PPC market. The presence of the PPC advertising for the first time will help shape and increase the search queries seen in the market." This is likely to happen fairly quickly. In late October, Google announced it would allow gambling advertising to most of the US jurisdictions where sports betting is regulated. Iowa, Montana, Pennsylvania and Rhode Island can be added to New Jersey, West Virginia and Nevada as states where operators will be allowed to advertise on the search engine.
PART OF THE SPORTING NARRATIVE
ESPN's Purdum views the amount of betting-related content on US TV from a different angle. "The interest in sports betting in the US is enormous [and] the assumption is that if you're of fan of sports betting content, you're automatically a gambler. That hasn't been my experience, though. There's a fascination in the industry that transcends to the general public. "I've gotten several emails over my years covering the industry from readers who say, 'I don't even bet, but I like to know who everyone is betting on and the big bets that are placed.' For decades, the media underserved that audience, primarily because of the sports leagues' resistance to it. Now, the change in the federal law has calmed concerns, both in the media and the leagues." Of course, the sports betting gorilla in this particular jungle is Fox Bet, the joint venture between Fox Sports and The Stars Group. The group is clear it will go all out on having a strong media presence across the Fox Sports media network. CEO Rafi Ashkenazi went into more detail during the conference call announcing the deal. "We know from customer data and research that wagering drives viewers to the broadcast, enhances the enjoyment of watching live sports, drives viewers to the broadcast and increases the engagement of consumers with the brand," he said. "We will also provide enriched content for broadcast, adding context around wagering opportunities, highlighting viewers' opinions on the games, and providing compelling content with fanfriendly games. "As the betting and gaming operator, we will receive major benefits from this relationship. The agreement gives us exclusive use of the Fox brand for sports wagering, giving us immediate access to an iconic brand that is embedded in US sports culture. We also benefit from exclusive integrations into Fox Sports TV and digital programming and assets." Fox's high brand awareness will give Fox Bet "an immediate advantage in customer acquisition" Ashkenazi added. "The partnership is based on creating a winning ecosystem, leveraging the proven media partnership strategy that our Sky Bet business has executed in the UK. Advertising, wagering activity and content, both TV and digital, represent the key pillars of this ecosystem. Making wagering part of the sporting narrative is proven to enhance the enjoyment of sports broadcasts. It also creates a wider funnel for our offer, a true virtuous circle." It will rely massively on the strong brand value that Fox Sports will provide. "Our research suggests 27% of people across the US would consider using a Foxbranded wagering provider – this is over 50% higher than the largest daily fantasy sports operators and far higher than any casino brand. "Our analysis of the UK market shows that there is an almost perfect correlation between a wagering brand's consideration and its market share. This provides us with confidence that the Fox Sports brand will ultimately serve as an ideal springboard to build a market-leading position." Fox Bet will be hoping it can replicate Sky Bet's UK success story in the US by producing "engaging content that will make wagering and predictions part of the sporting narrative" and confirmed that it will pay an affiliate fee for all sign-ups that come from Fox Sports. TheScore is another major US media outlet that is live in New Jersey with theScore Bet and is launching via an 11-state deal with Penn National Gaming. For CEO John Levy there is no doubt US media companies will be a big driver for acquisition for betting companies. "When you have a large and engaged audience of sports fans – many of whom like to bet – that's naturally going to be fertile ground," he says. "When PASPA was repealed, just being a super-affiliate was an option we considered. For us, that always felt very short-term. This is why we decided to go all in and become the first media company to create, launch and operate a sportsbook in the US." And with content, stats and data playing hugely important roles in how audiences engage with sports and betting content in the US, Levy says: "We honestly wouldn't have entered the sports betting space if we didn't have such a large and engaged audience on our mobile app. "The barrier for entry into sports betting is very high from a technical, regulatory and market access standpoint. The space is very competitive and the battle for user acquisition is fierce." Levy adds that betting has always been part of how theScore delivers content, while the group knows its large and engaged audience likes to bet on sports. It's that "dedicated base of users" that will position his group for success, he says. As to whether sports betting is broadly accepted as a mainstream leisure activity in the US, Levy is unsure. "During our television network days, we were the only outlet to readily accept that sports fans were probably interested in betting. We carried live odds on our ticker, and our presenters would often talk about the spread and other betting related angles. "Our position is that sports betting is, and always has been, a part of the overall fan experience. We've embraced this from our very early days. Since PASPA was repealed, some of the legacy media outlets are now turning their attention to this form of engagement and this is long overdue." We will find out in the next few years whether Fox Bet or theScore become dominant US sportsbooks or if ESPN can generate substantial revenues from advertising or affiliate deals. What is patently obvious, though, is that US sports media brands have highly relevant and massive target audiences. The US media groups are ideally placed to be successful; they sit at the juncture where information, stats and data meet with bookmaking. And as Gambling.com CEO Charles Gillespie points out, the SEO or PPC market in the US is far from mature currently. For the near term at the very least, strong sports media brands will expect to redirect a large percentage of online traffic to their own sportsbooks or those advertising on their broadcast and online networks.
Back to The Top