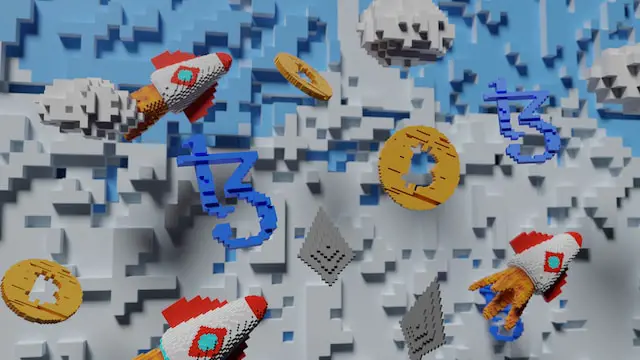 A controversial topic in almost any industry it touches, crypto divides opinion even in igaming. Here, Erica Anderson from Paysafe Group's Income Access, discusses if it really is a vertical worth exploring.
Over the last few years, the igaming world has been in a rapid state of diversification, with new markets and verticals popping up regularly. One of the most significant additions to the industry has come through cryptocurrencies, particularly as a vertical for affiliates to diversify promotional strategies.
Crypto exchanges have become a massive part of the igaming world and represent one of the verticals that has grown strongly in a short period. With that in mind, in this article I'll be exploring crypto in igaming and why affiliates in the gambling market should consider diversifying here. We've also reached out to affiliates we work with for added insights on this burgeoning vertical and how it's impacting the affiliate marketing world.
From the affiliate perspective, we spoke with Toni Westerholm, CMO & co-founder at Good Luck Media and Bonuskoodit.com, as well as Florian Krause, editor-in-chief at Blockchainwelt.de and the KaFe Rocks Group.
No slowing down
The crypto vertical has been in a state of constant growth over the last couple of years and shows no signs of slowing down. Toni Westerholm agrees, believing that things are moving fast with providers and payment methods. "We expect this category to shoot up and create new markets for operators and affiliates in the near future," he says.
More payment options are becoming available for players, giving affiliates added ability to reach new users. In particular, digital wallets have seen strong growth in the crypto space, with brands like Paysafe's Skrill and Neteller, along with others, providing a reliable payment option for users.
While there are some difficulties with marketing crypto exchanges, especially when compared to other igaming verticals, the crypto space is still a growing one, brimming with possibilities.
Florian Krause seems equally confident about the future of the vertical, saying: "If we look at the last two years, the crypto space never had such innovations within this short timeframe. NFTs, DeFi, GameFi and DAOs [decentralised autonomous organisations] are things that still are at the beginning, and I believe that we will see new verticals within the crypto vertical with a real purpose."
Looking ahead, Krause admits to being "super bullish on the next 5-10 years of crypto because I believe the market will be safer for institutional investors and more regulations are in place."
While regulations are typically seen as a deterrent for a vertical to move forward, in this case, the opposite may be true. As a newer concept not just in igaming, but across the entire business world, increased regulation means that more markets are accepting crypto and looking to tailor it to its jurisdictions. While at first glance the regulations may make things more complicated, they can cultivate more trust from users and greater acceptance from regulatory bodies and organisations.
Educating a new audience
As crypto exchanges are a newer space in the igaming world, marketing them as an affiliate can feel a little tricky when compared to other verticals.
"When we talk about crypto exchanges, the biggest challenge is trust and lack of education," Krause echoes. "Since the market is relatively new, people don't understand all the technical terms, which can mean that the brand with the most significant marketing budget will win."
While more and more consumers are embracing crypto, there's still a large chunk of igaming players who are not comfortable with the concept or may not understand its mechanics. For this audience, Westerholm believes the solution is simple: to try to put ourselves in the customers' shoes.
"So, we are in the middle of this process already, where we are trying to educate new customers to play," he says. "We're also doing workshops with the crypto exchanges as well, who ask us what the customers are looking for." It will be vital for affiliates to work with the exchanges they're promoting, to understand the product well and how to effectively market it to their audience.
Simply put, many potential crypto users will require some element of education as the vertical continues to grow. Affiliates seeking to market different platforms will need to look at ways to emphasise that, whether through their own educational tools and/or promoting operators who offer reliable educational material as well.
Krause reinforces this concept, stating that his company's strategy was to "build an educational platform where the user can consume the essential crypto topics to get confident with the new asset class". If consumers are going to get accustomed to using crypto exchanges and other crypto products, helping to educate them will be a big factor.
Key takeaways
As affiliates look for another edge in the igaming world, diversifying into the expanding crypto space may be an advantageous path forward. Affiliates looking to capitalise on the flourishing crypto vertical will need to focus on educating themselves and their users in order to make a mark. By understanding the challenges of marketing crypto products and concentrating on educating its audiences on the value of crypto exchanges, affiliates will give themselves the best chance possible of succeeding in the complex but rapidly growing world of cryptocurrencies.
Photo by Shubham Dhage on Unsplash

Erica Anderson
is VP of marketing & product, Income Access at Paysafe Group. Her role includes a focus on developing the marketing and product strategy for the Income Access brand. With over a decade's industry experience, Anderson also oversees Income Access' in-house affiliate management team and its suite of digital marketing services.
Back to The Top