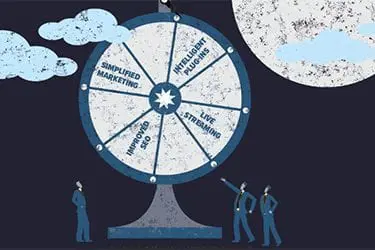 Last year may have been a challenging one for the sector but with increasing complexity comes opportunity. Lee-Ann Johnstone sees reasons for optimism for those digital marketers prepared to get to grips with tech and data
This year is set to be one of extreme growth and development in our industry. Keep reading to discover why 2020 will be digitally great! New markets are regulating and providing frameworks for entry. Technology is propelling us forward faster than it has in the previous digital decade and affiliates and operators are using new data and artificial intelligence to gain deeper understandings of their customers to improve their marketing tactics. Now is a great time to be building a digital business. Being an affiliate entrepreneur has never been more exciting and building successful affiliate programmes has never more complex. This is going to be the year that you learn new tricks, using technology and data to propel your business forward. Here are the top three reasons why I think this is going to be an exciting year to work in digital marketing and how marketing tactics might change in 2020.
1. FINDING YOUR IDEAL CUSTOMER REQUIRES LESS TECHNICAL NOUS
SEO and social media are becoming more easily accessible for the masses to take advantage of. There is no longer a need to have a deep technical understanding of each of these channels to find good sources of traffic. It's actually becoming simpler to target and drive user engagement and then capture your audience with basic inbound marketing techniques. Technology is allowing us to do this. Nowadays you can access new sources of traffic in channels, where previously you might have needed specialist skills to do so. There are more opportunities to seek and capture targeted pockets of traffic online without needing much technical know-how – and this is quite exciting. Social media platforms are developing their community management applications and implementing a number of tools within their platforms to help influencers and online marketers talk directly to their audience without the need for a complex website. It's the beginning of a new era of defining online engagement that has transcended the need for building websites. Apps and viral content marketing tools are being released that simplify your inbound marketing techniques so that anyone can build and launch a campaign that targets customers directly without the need for complex code or expensive design. Technology is driving this engagement without the need for expensive technical skills. Video is another area that is now quite simple to master. Anyone with a decent smartphone and a good lighting system can create engaging content for next to nothing. The onset of live streaming and YouTube's platform developments are having great results engaging customers in real time and capturing audience data to remarket in other channels. Last year, I met a couple of affiliates at iGB Affiliate Lisbon who had just launched a YouTube streaming channel for bingo. In the first two weeks since launch, they'd had 200 new customers sign up to their channel. They had a one-page site with very little information on it but were gaining newsletter subscribers and converting them to affiliate offers to monetise the video creation. It was simple and effective and the customer was loving it. Clearly, then, grabbing the attention of your target customer doesn't need to be complex, cost the earth or require in-depth technical skills. The idea or concept of what you are offering or selling, along with a strong brand and engaging content delivery, enables an affiliate business model to succeed. If your concept and your offer is unique it automatically adds value and offers customers an opportunity to gain an advantage ahead of depositing to wager. I recently helped judge the iGB Affiliate awards and many of the newcomer entries I read through had great concepts and ideas around offering the customer a unique service. Few were touting the fact that they'd built an "all singing and all dancing website or app" with massive amounts of technical infrastructure. The advancement of voice search, constant algorithm changes in search engines, and new plug-ins coming to the market which make online marketing and promotion a bit easier to manage, mean there's now a clear pathway for new affiliates to join this already crowded space and offer traffic diversification options for operators to engage with.
2. CONTENT MARKETING, SEO AND USER ENGAGEMENT ARE EASIER TO MASTER
Neil Patel recently did a good video blog about increasing your SEO with a simple WordPress plug-in called Structured Content. He reckoned this plug-in could increase your traffic immediately after implementation and showed exactly how he'd set it up. The video basically demonstrates how to add an FAQ section at the end of your blog and content posts. Including these FAQs helps you rank in search engines based on the questions being asked about the specific topic you are writing about. You then answer these questions at the end of your blog using the plug-in and bingo: it increases your traffic rankings. Implementing plug-ins like this is simple. It doesn't take a lot of time and automates a process that used to be done by a human. It now works pretty much instantaneously to drive traffic to your site. I think you are going to find many more tools aimed at helping businesses drive traffic to their sites. This is going to be a year of tech and data development in online. The point I'm trying to make here is that your content marketing needs to be authoritative – it doesn't have to rely on technical or deep scientific data attributes to work. Create good content and customers will follow you. Build your content plan with a customer's needs in mind and they will find you. Affiliates tend to understand this aspect very well and this is why they generally succeed in building strong communities around their offerings. It's why operators need to be using them more to drive audience engagement and not just lead generation. In 2020 you won't have to be in every social channel – in fact, this is something that is impossible to do effectively. The brands that are succeeding are the ones that simplify their stream and make customers come to them. It's taken me almost a year to realise this. You may have noticed that even in my own business I mostly hang out on LinkedIn these days as this is generally where my preferred target audience listens and responds. Sure, I still keep the branded pages live and active with news and relevant content, but I talk about the things I want to talk about on LinkedIn and have started to build a strong reach and community in just this one channel. If people want to talk to me, they can find me here. Slowly I'm pretty sure that the right people will come. (I'll be happy to talk about this in a few months to see if I was right!)
3. YOU DON'T NEED A FANCY PLATFORM TO UNDERSTAND AND ENGAGE WITH YOUR CUSTOMERS
I think websites are going to slowly become a thing of the past as a key form for doing new business. Social media platforms are developing their front-end to allow businesses to function without a website. They are connecting brands to customers and influencers using content and community building as a key part of this. While websites have always been a digital footprint to research and benchmark a brand or service, I think most consumers are no longer relying on desktop but are instead using mobile applications to gain access to information and to make purchases. Nobody waits to get home to fire up their computer to shop or research things online. They do it on the go at the point of interest, usually on their mobile. I know, because I literally did this last night. One of my new year's resolutions is to get fitter and on the TV I saw an ad for [the weight loss app] Noom. I picked up my phone, did the quiz and boom, five minutes later I'm £114 poorer, live on the app and am logging my meals daily in a bid to track my weight loss. The world is changing. So is your customer. Are you going to change your methods to meet them? Engaging them with an offer online at a point when they need or want to purchase is key to your affiliate business success. Building trust and using relationships to do this is also important. Therefore, I think apps and brand-led communities will play a bigger part in the future of affiliate marketing; it won't just be about creating a website. Technology is driving this forward. The other thing to take note of is that offline events in our industry are plentiful. 'People buy people' as the saying goes, so make sure you get out from behind your desk and go to meet your affiliates and affiliate managers. While you don't need to attend every event, strategically you should include these in your business planning. Events mean you don't need a fancy website to sell your service, because believe me, you can always do the selling better in person. I am a firm believer that sometimes you have to meet your client in order to really understand them. A lot of what we do is executed online but sometimes a relationship works so much better when you meet and get a sense of the person to whom you are marketing yourself. This year it's going to be important to be seen and heard. For me, this means attending more events, getting back to performing networking basics and having meaningful conversations with my customers to understand their exact needs. I'm looking forward to starting a new digital decade and am excited to see what happens next.
Back to The Top